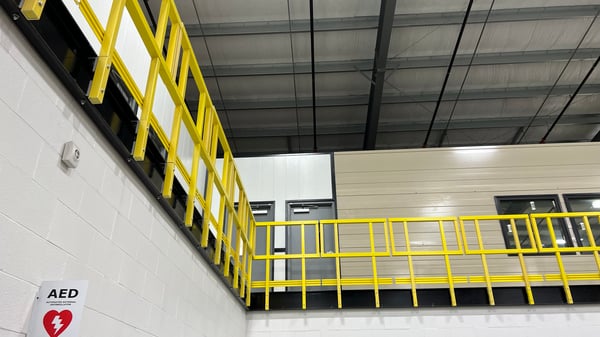 Need Safe Access in a Commercial, Chemical, HVAC or Industrial Space?
Try our Lightweight, Corrosion Resistant Ladders, Stairs, Walkways and Handrails
CCG specializes in designing and fabricating standard pultruded FRP profiles for corrosion resistant, lightweight access structures that can withstand harsh commercial, HVAC and industrial environments.
Functional Safety Structures & Safety Concerns

Two main requirements for many access structures are shape and safety. While structures need to be designed to be non-slip to prevent falls, there are other safety considerations as well. The decking design needs to distribute traffic evenly without adding too much unnecessary weight. These safety concerns are especially pronounced with commercial applications, which might see any combination of pedestrians and heavy loads on a given day. A shared-use design warrants appropriate engineering so it can support heavier and more variable weights. Using FRP for platforms, railings or safety structures protects your investment with an incredibly durable, corrosion resistant structure that provides for up to 75 years of design life. And because FRP is lightweight and flexible, it minimizes stress on the underlying structure, making it ideal for when weight is an issue.
Ladder & Stair Systems
Our FRP profiles are used in a diverse range of applications including HVAC ladders, access ladders, tank ladders, ladder systems, stairways, stair towers and stair systems. Lightweight pultruded profiles can be pre-fabricated on the factory floor or assembled at the work site. A marriage of aesthetics and structural integrity, FRP profiles enhance architectural appeal and provide a robust alternative to aluminum, steel and other materials.
Walkways & Handrails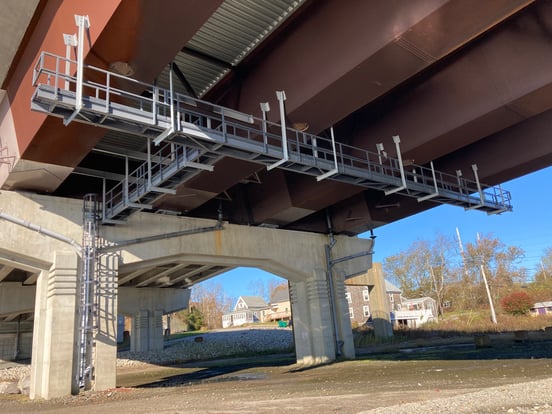 FRP's resistance to corrosion makes our profiles equally suited to the harsh requirements found in the chemical industry and other markets such as distilling, oil and gas, wastewater, pulp and paper. FRP corrosion resistant commercial handrails, safety railing, handrail systems and guard rails meet safety and compliance standards. We also provide corrosion resistant catwalks, landing platforms, mezzanine systems, walkways, crossovers and work platforms.
What Makes Us Different?
CCG is more than just an FRP fabricator. You can order standard FRP shapes to meet your own manufacturing and assembly requirements or we help you take a project from engineering and design to prefab, fabrication and assembly. We meet and exceed engineering, safety and compliance standards to manufacture the best FRP products on the market. Contact us today about your application needs and ideas.