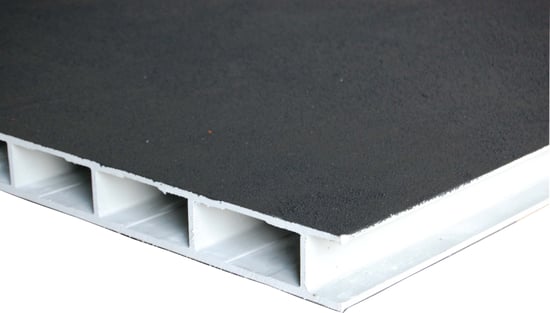 Superpanel FRP panels are lightweight, heavy-duty panels are designed for walkways, heavy-duty wall and roofing applications. The multi-cellular profiles can be foam filled for added thermal properties. The panels come in two different profiles with superior strength and bending capacity. These are CP150 at 2.5-inch thickness and PA004 at 4.5-inch thickness.
SUPERPANEL CP150
Superpanel CP150 was designed to perform as a heavy-duty walkway, wall or roof panel system. The tongue and groove system was designed to accept structural adhesive for enhancing composite action between panels.
SUPERPANEL PA004
Superpanel PA004 was designed as a walkway deck with limited support beams. The unique connection system can be bonded together to form a composite connection that will not allow water to penetrate the deck. This panel can take light vehicular traffic and is available with anti-skid overlay.
Many of our customers have discovered that our fiberglass panels reduce their installation time, eliminate future replacement costs, and reduce their maintenance requirements. Additionally, many have seen a reduction in the budget necessary to complete their project.
We can supply you with panels that are painted or made with ADA compliant, anti-skid texture suited for your application. SUPERPANEL is environmentally safe and will not leach chemicals. Additionally, our
panels are essentially non-conductive, making them valuable when working around electricity or heat.
The Creative Composites Group can supply you with pultruded fiberglass panels for decks, platforms, walls, and roofs. If you need thinner wall panels, please see our composite wall panels page!