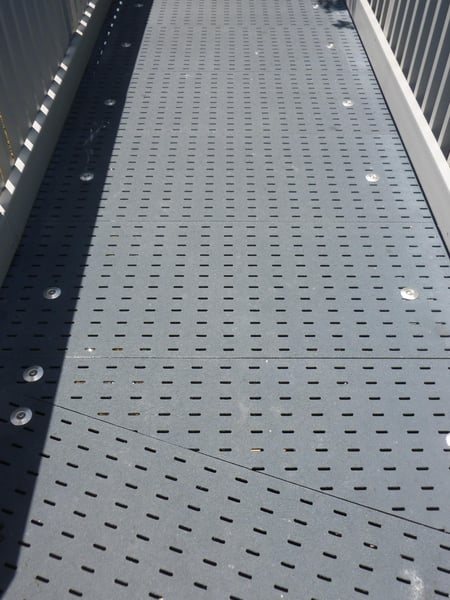 SuperPlank® and Flowgrip® both are pultruded as a single profile and offer a unique tongue and groove joint to reduce the number of fasteners and eliminate trip hazards that plague traditional decking products.
SuperPlank® & Flowgrip® are fiberglass decking systems that are pultruded in a constant cross-section with the legs and top surface integral to the profile. The unique tongue and groove joint system locks the panels together. The interlock permits shear loads to transfer between each panel while eliminating trip hazards. The profiles are offered as a solid surface or with perforations to allow sunlight or water to pass through.
SuperPlank® GR 205 profiles are 24 inches wide and 1.5 inches high.
Flowgrip® GR 202 profiles are 19.685 inches wide and 1.575 inches high.
Features and Benefits
Unique tongue and groove interlock increase the speed of installation.
The 19-inch and 24-inch width of the panels increase the speed of installation and reduce hardware cost.
The solid top panel eliminates the possibility of debris or tools falling through the flooring.
The solid surface panels can be used for odor control covers.
The optional open-top panel allows for water egress when your design requires it.
ADA compliant with slot open in widths of 1/2-inch; (13mm) or less.
The panel is available with a highly durable antiskid wearing surface for enhanced safety.
The lightweight panels are very strong and corrosion resistant.
Applications
ADA Compliant Ramp Decking
Decking for Walkways & Platforms
Marina Dock Decking
Cooling Tower Decking
Pedestrian Bridge Decks
Trench Covers
Odor Control Covers
Sidewalks
Baffle Walls
Scaffolding Planks
Trailer Flooring
Clean Room Floors
Industrial Shower Floor
Balcony Decking
Roof Top Maintenance Access Decking