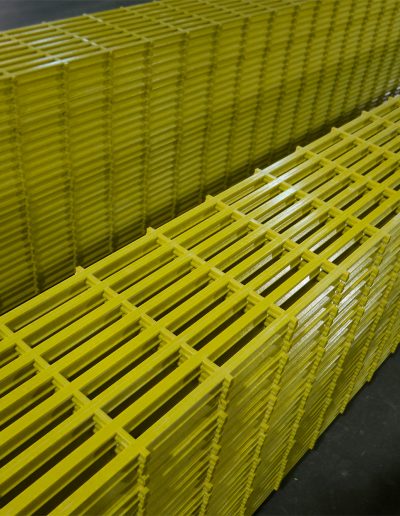 The Pultrusion Process for Grating
Supergrate® pultruded grating is a high-strength lightweight fiberglass grating system. CCG fabricates this grating system from highly corrosion resistant I or T bars. The I or T bars are connected mechanically and adhesively with a unique notch and groove bar system. The pultrusion process is a continuous process. During this process, resin, roving, mat and surface veil are guided into a heated die to make a constant cross-section. A synthetic surface veil is also added to provide a resin-rich surface for corrosion resistance and UV protection.
SUPERGRATE® Pultruded Grating
This fabricated grating is exceptionally stiff and has a modulus of elasticity of over 5 Msi. The 65,000 psi bending strength means that this grating is built for durability. A combination of strength and stiffness gives Supergrate® these attributes which are ideal for industrial flooring applications in which impact strength and toughness are daily requirements.
Supergrate® Pultruded Grating can achieve longer spans and higher load capacity than standard molded FRP grating systems.
Common Applications
Walkways
Stairs
Platforms
Trenches
Catwalks
Ramps
Boat Docks
SUPERGRATE® Pultruded Grating Offered In:
Thickness: 1", 1-1/2" and 2"
Open Area: 1" deep and 1-1/2" deep "I" shaped bar in 40%, 50%, and 60%
2" deep "T" shaped bar in 33% and 50% open area
Panels Sizes: Various Sizes
Cross Rod Spacing: 6" and 12"
Anti-skid Top Surfaces: Grit Top – epoxy-bonded quartz aggregate
Colors: Safety Yellow and Dark Gray
Resin Systems: Isophthalic Polyester Fire Retardant or Vinyl Ester Fire Retardant
Fire Retardant Properties: Pultruded grating products perform to a Class 1 Fire Rating of 25 or Less Per ASTM E-84 and are Self-Extinguishing per ASTM D-635.
*Special resins, colors and lengths are available.
Features & Benefits
Corrosion Resistance
UV Resistance
Maintenance Free
Long Life
Electrical and Thermal Insulation
Lightweight
A standard line of panel hold-down clips, panel connectors, curb angle and other grating support systems are available.