Custom Manufactured Fiberglass Composite Distribution and Transmission Poles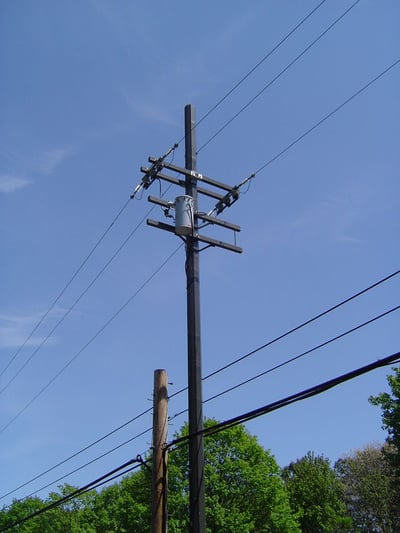 CCG provides pultruded composite utility pole structures, custom fabricated to meet your strength and stiffness requirements. We offer FRP composite distribution poles ranging from Class 10 through 1, up to 80 feet in length, and FRP transmission poles from class 1 through H6, in various lengths. The poles are classified as ANSI O5.1 wood equivalent poles.
Unlike wood poles, the Powertrusion poles are an engineered product with a low coefficient of variation. Pultruded utility poles feature high reliability when compared to traditionally treated wood poles. In fact, the National Electric Safety Code (NESC 2012) recognizes FRP composite distribution poles as having the same reliability as steel poles.
Most customers choose our poles over wood, steel, or concrete poles for applications where lightweight, limited access, and corrosion resistance are important. The Powertrusion fiberglass composite distribution and transmission poles will not rot, rust, spall, or succumb to termites or woodpeckers. The fiberglass poles will not leach chemicals into the environment, nor do they contain chemicals or additives that could be detrimental to human contact.
Our fiberglass composite poles and crossarms can now be modeled within O-Calc Pro. O-Calc Pro is a structural analysis software tool. Interested in designing your next FRP utility pole or crossarm with O-Calc Pro, learn more at https://www.osmose.com/o-calc-pro.
The Customer Requirement Utility Pole Fabrication Sheet should be completed for fabrication purposes and will be sent to the Fabrication Department for Quality Assurance inspections.
The excel spreadsheet needs to be completed and emailed to your Inside Account Manager. Instructions for completion are included in the Download below. For a complete list of available hardware and part numbers please refer to the Hardware and Accessories Catalog
DOWNLOAD our Power Line Systems PLS-Pole: Creative Pultrusions Pole Library
DOWNLOAD our Osmose O-Calc: Creative Pultrusions Pole Library