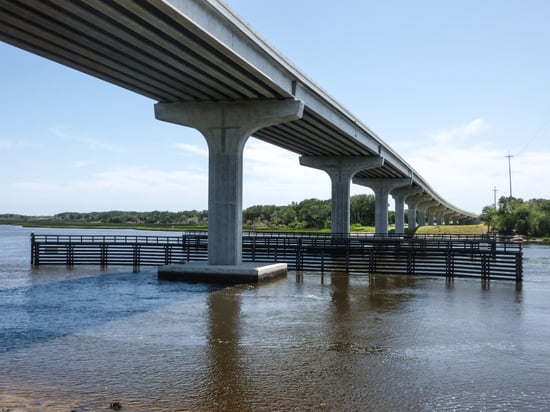 Composites Vs. Traditional Materials in Marine Environments
At Creative Composites Group, we design and manufacture composite waterfront infrastructure products, such as camels, docks, sheet piles, pipe piles, fender systems and custom marine projects.
Why Choose Composites for Waterfront Infrastructure Projects?
Traditional construction materials, such as concrete, steel and wood, come with unique challenges due to the harsh conditions experienced in marine environments. For example, traditional construction materials are constantly exposed to saltwater, UV sunlight, extreme weather conditions and even corrosive chemicals.
Due to this exposure, wood will decay, and steel will corrode. That's why many industry professionals have turned to composites, which has excellent environmental durability and design flexibility. These qualities, among others, make it a more cost-efficient and long-lasting material choice for marine infrastructure.
Composites offer many advantages over other materials that make it a better option for waterfront infrastructure projects:
It is strong and lightweight. Our composite structures have a high strength-to-weight ratio. As a result, it is naturally buoyant, which is ideal for components and structures installed in waterfront environments.
It is durable. Since the fiberglass core is surrounded by a chemical and ultraviolet (UV) radiation-resistant polymer, it is protected against many of the environmental hazards found at the waterfront.
It is low maintenance. The durability of our composites allows them to last up to 75 years with no maintenance, which can lead to significant savings over the course of the structure's life.
It is cost-efficient. The fiberglass reinforcement material in FRP offers high strength at a low cost, which makes FRP composites are structurally sound and a cost-effective material option.
CCG's Composite Products for Marine Infrastructure
Due to its many advantages, composites are becoming the top contender to replace aging wood, concrete and metal for marine infrastructure. Our structural FRP products combine the maximum environmental durability with design flexibility that non-composite products simply can't match.
At Creative Composites Group, we can provide the following waterfront products: