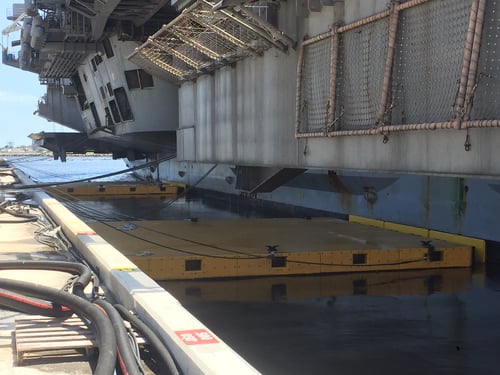 Universal Composite Aircraft Carrier Camel
Fiber Reinforced Polymer (FRP) composite material's ability to resist corrosion in a harsh saltwater environment made it an attractive option for replacing the Navy's traditional steel structures to eliminate high maintenance and replacement costs.
FRP materials are a combination of fiber (typically fiberglass) and a polymer resin (typically vinyl ester epoxy). Fiberglass is a cost-effective material that provides strength and stiffness. The polymer supports the fiberglass and protects it from chemicals and saltwater.
FRP composite camels will have a service life of 25 years with little to no maintenance during this lifespan. We base the camel design on the platform technology it developed for Naval Facilities Command's universal composite submarine camels.
A camel consists of five modules and a front interface panel. Each module consists of many composite panels that are bonded together. The module size allows it to be transported over the road. The modules are assembled into the full camel at a shipyard near the base. The fully assembled camel is 56 feet wide and 63 feet long. One camel weighs 325,000 lb. The natural buoyancy of the FRP panels allows for robust flotation of the structure.