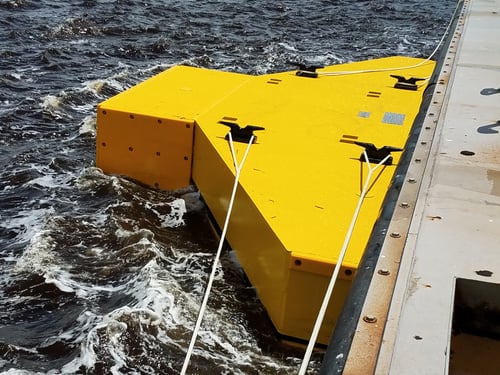 The universal composite submarine camel provides the critical performance advantages the US Navy needs for waterfront infrastructure- no maintenance, corrosion resistance, long life cycle, and operational efficiency. Fiber-Reinforced Polymer (FRP) composite provides all these benefits.
During berthing, camels protect the submarine from being damaged including the hull, diving planes, screws, fairings, special skin treatments, and other appurtenances. As the submarine moves during berthing and mooring, the camels compress to absorb its energy and distribute the load across more of the pier.
Prototype FRP camels went through a 10 year demonstration period from 1999 to 2009 during which they required no maintenance. The camels were removed from the water for a more complete inspection.
Unlike their traditional steel counterparts, no corrosion or degradation was found. Based on this success, a universal design was created in 2009 to use the FRP composite camel to accommodate any class of submarine for operational efficiency. This camel is used by the U.S. Navy at submarine bases along both coasts and overseas.