In the marine industry, dolphins aren't just gregarious aquatic mammals. The moniker also refers to man-made structures used for berthing and mooring (or docking and securing) boats, ships and ferries. Conventional dolphins consist of anywhere from three to 50 piles and help provide extra docking space when piers are full.
There are three different types of dolphins currently in use, but one – the breasting dolphin – stands apart.
Mooring dolphins are used to assist in mooring and securing a ship to a pier or other secure structure via rope. They are also sometimes used to provide pedestrian access to the ship through a bridge structure.
Berthing dolphins reduce the sideways movement of a moored ship. subjected to waves, currents or other wind-related conditions and help to stabilize it while docked.
Breasting dolphins, also known as approach dolphins both protect a boat from hitting the pier or dock; and stabilize it to reduce side-to-side movement while moored.
Breasting Dolphin Benefits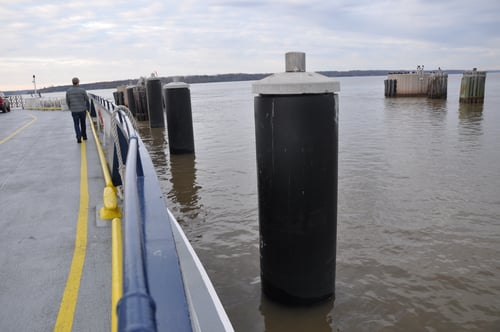 Protect a boat from contact with a pier or dock
Reduce lateral movement
Guide ferries and vessels to approaching terminals and piers
Cost-efficient
Traditionally, wooden piles have been the material of choice for approach dolphins. For most applications, Fiber Reinforced Polymer (FRP) has usurped wood as the preferred material. FRP breasting dolphins are resistant to the rot caused by constant exposure to sun, salt and water and cannot be inhabited or damaged by marine life. We use larger diameter StormStrong® pilings to produce our dolphins. Given its high strength, a single FRP dolphin can be installed in place of wood dolphins that are made of timber bundles, providing significant cost savings during installation.
Steel or other metals are sometimes used for breasting dolphins as well, but metal approach dolphins suffer from corrosion and a shortened service life. FRP is not impacted by corrosion from water, salt, or chemicals. In addition, dolphins made from FRP are lighter, cheaper and easier to install than metal breasting dolphins. This makes FRP the obvious choice for approach dolphins.