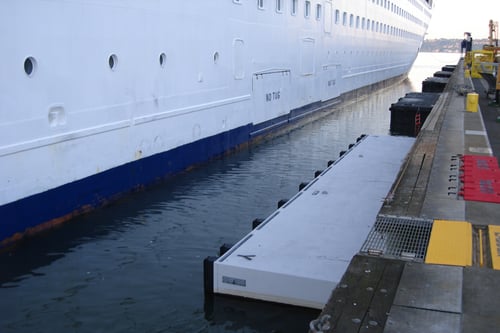 Using FRP composite separators to protect moored ships draws upon two big benefits of FRP composite materials: corrosion resistance and design flexibility. Separators are used in both military and commercial ports.
Composite ship separators are designed to handle the berthing energy of surface vessels. The separators are used for ship-to-ship mooring in crowded ports and can be used for ship-to-wharf mooring. Fiberglass construction makes separators resistant to corrosion, and the top surface of these structures is coated with a non-slip overlay that greatly increases safety for personnel using the separators for access and maintenance activities.
Other features are safety railing and stainless steel armor on corners for durability during impact events and severe weather. Rubber fenders on the sides provide the interface with the hull. Separators can be built to almost any size; with typical separators being 40 feet, and custom separators to 80 feet long.