Saving a historic river crossing in Trail, British Columbia
In 1890, the discovery of gold and copper ore on the face of the Red Mountain in eastern British Columbia sparked a mining boom that produced a profitable smelter and gave rise to the City of Trail, which incorporated in 1901. A decade later, growing civic services prompted the province to construct Old Trail Bridge across the Columbia River. The rivet-connected, multi-span truss bridge became known as a historical and technologically significant landmark. Today, Trail remains home to B.C.'s largest lead-zinc smelter. But severe deterioration forced the Regional District of Kootenay Boundary (RDKB) to close Trail's century-plus bridge in 2010. Mining the Internet for material of a different sort, COWI North America Ltd.—a leading bridge, tunnel and marine engineering consulting group—found Dayton, Ohio-based Composite Advantage's Fiber Reinforced Polymer (FRP) FiberSPAN integrated bridge system.
"Combined deficiencies to the steel truss members and support piers made continued use of the old bridge structure unsafe for pedestrians and vehicles," says Julie Gubbins, senior bridge engineer and project manager for COWI. "A study concluded that it was too costly to rehabilitate or replace the Old Trail Bridge."
The town needed an alternative solution. In addition to its topside traffic, Old Trail Bridge carried a sewer pipeline tucked underneath it. "Once the bridge was condemned, the opportunity opened up to re-route the sewer pipe and add a water line for the city," says Gubbins. Trail also identified a walking bridge as a vital component to the community's downtown revitalization plan, development of an Esplanade and pedestrian trail development. "Reconnecting with the river is essential to our City's long-term sustainability," one Trail official said.
To add pedestrian capability, the new utility bridge required lightweight, prefabricated panels that could accommodate multiple features including a crown, flexible shapes, rail connections and dimensions for standard and custom widths. A mountainside worksite and zero access from beneath on the mighty Columbia River dictated prefabricated FRP panels.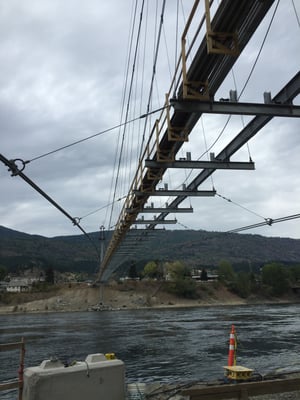 "We asked Composite Advantage a lot of questions to determine if FRP composite material was the right fit for this project," says Gubbins. "There were a number of things that would need to be accommodated by the FRP panels, such as varying deck geometry, drainage, handrail connections and panel connection to the supporting steel. Conventional precast concrete was another option, but there were significant benefits to keeping the superstructure light weight. The cost of the FRP panels was higher upfront, but this was offset with quicker and easier installation of the FRP panels and the use of smaller supporting elements (cables and cable anchorages, towers, pile foundations etc.). We listed Composite Advantage as a suggested supplier."
Trail City Council awarded the $12.23 million construction contract to Graham Infrastructure LP in 2015. Headquartered in Calgary Albert, the company's infrastructure, building and industrial groups celebrated 90 years of integrated construction solutions in 2016. "In all that time, Graham had never built a suspension bridge," says Graham Project Manager Aidan Connell. "Not too many suspension bridges are built these days, but the construction method hasn't changed much over the years." Connell operates out of the company's Vancouver regional branch.
Though typically the most expensive to build, suspension bridges can span distances that are too long for other types of bridge structures to handle, making a suspension structure ideal for reaching across waterways. The foundations are built and the towers that support the bridge raised on both sides of the river. "Then you build everything in between," Connell says. "The Columbia River Skywalk was 225 meters tower to tower and almost 280 meters abutment to abutment. FRP composite material was perfect for the deck for this project."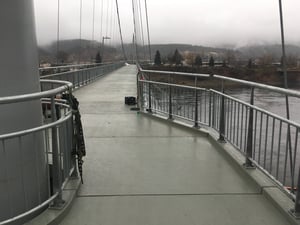 Graham opened the project for bids, but selected Composite Advantage because the manufacturer provided "much more than just a quote" "We are not experts in FRP," says Connell. "They provided detailed product information and installation methodologies. It was clear they had the knowledge and field experience to give us the kind of technological support we needed."
With sign off from the engineer of record and Trail, Composite Advantage fabricated FRP panels— specified in four different shapes ranging from wide to narrow and including a trapezoid shape for transition and cut-outs to accommodate the steel towers. The panels were prefabricated with features that included a crown, curbs, drainage scuppers, access hatches and rail connections. Insets were molded into the undersides of the FRP panels to clear bolted splices for the steel stringers that provide support below deck. Deck width for the bridge's tower section was 7 m. The structure's span section was 4 m wide. Tower deck panels had a variable thickness from 79 mm to 145 mm with a 2 percent crown in the center of the deck panels. Span sections were prefabricated with a variable thickness ranging from 109 mm to 145 mm with a 2 percent crown in the center of the deck panel.
"We were heavily reliant on Composite Advantage to deliver a quality product," says Connell. "Essentially we were at their mercy. We sent an inspection team to evaluate production and the quality of the panels at their facility. We wanted to ensure that everything was on schedule. The project's timeframe didn't allow for any delays. Panels needed to be compliant and ready to install upon arrival. We received a positive report though and gained an immediate comfort level with Composite Advantage."
Due to the size of the project, FRP panels were shipped on four flatbed trailers. "The work site was not easy to access," says Connell. "It was remote. The panels had to travel over 2,000 miles to reach the construction area in British Columbia."
To begin constructing the bridge deck, Graham had to build what it calls a "man basket" capable of holding 3 or 4 men. With the steel superstructure and sewer pipe and utility lines already in place, Graham was able to pick up three FRP panels at a time with the man basket and move them over the bridge into position, where operators dropped the panels in to place.
"The man basket essentially doubled as a crane," says Connell. "If we had been lifting concrete slabs we wouldn't have been able to meet our installation schedule. But the light weight FRP allowed us to grab multiple panels at a time. As a result, we were able to place panels from tower to tower and the two back spans in about 10 days."
Graham personnel worked at an elevation of 50 to 100 ft. above the water. But high winds and extreme weather temperatures weren't the only challenges Graham faced. "We worked closely with Composite Advantage because we had to place FRP panels on the steel structure on a parabolic curve. The deck wasn't perfectly flat. But the execution of the project went very well, panel insets matched up perfectly with splices and bolts on the steel stringers. We came in on time and on budget."
"We engineered the skywalk to support foot traffic, a cycling route and a 4-Track emergency vehicle with a trailer," says Composite Advantage President Scott Reeve. "In addition to reducing installation time and overall operational costs, low maintenance made the FRP pedestrian deck a budget-friendly, long-lasting solution."
The Columbia River Skywalk opened to the public in December 2016. But Graham came away from the job with something more than just another project to add to its portfolio. "We were welcomed into the Trail community upon arrival and integrated well with Trail and its people," says Connell. "We built a lot of great relationships, not just a bridge."
Project Details
CLIENT:
City of Trail, BC
---
DECK SIZE:
722 ft x 13.1 ft
---
DECK AREA:
13,613 sq ft
---
DECK PANEL DIMENSIONS:
13.1 by 8.2 ft
---
DECK DEPTH:
3.1 to 5.7 in
---
DECK WEIGHT:
8.35 psf
---
REQUIREMENTS:
84 psf live load; L/500 deflection. Concentrated load of 2100 lb on one s.f.
---
SUPERSTRUCTURE:
Steel stringers
---
BEAM SPACING:
8.2 ft
---
DECK TO BEAM CONNECTION:
Steel connection clips
---
CROWN:
2% crown
---
NON-SLIP OVERLAY:
Epoxy aggregate
---
GUARD RAIL:
Attached to deck
---
SPECIAL REQUIREMENTS:
Deck includes drainage scuppers and access hatches
Insets in panels for stringer splices
Special shapes around masts
---
COLOR:
Gray
---
OWNER:
City of Trail, British Columbia
---
INSTALLATION DATE:
December 2016
---
ENGINEER OF RECORD:
COWI North America
---
CONTRACTOR:
Graham