Featured Project: Aircraft Carrier Camels
Naval Station Mayport received its first set of fiber reinforced polymer (FRP) composite "camels," produced by Composite Advantage in February 2017. Camels are floating structures designed to maintain separation or standoff between a large vessel and a wharf, to protect the hull and submerged equipment from damage. Mayport will use the camels to berth nuclear powered aircraft carriers (designated by the Navy as CVN).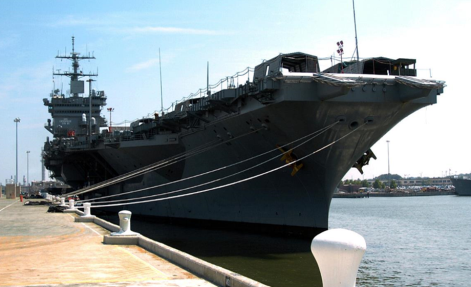 Composite Advantage fabricated the CVN camels based on a design and technology it developed to meet the Naval Facilities Command's (NAVFAC) requirements for berthing submarines. Since 2010 Composite Advantage has prefabricated and installed 15 sets of universal FRP submarine camels for NAVFAC. The composite product's lower maintenance costs when compared to conventional steel camels have made it a robust option for use with vessels continuously exposed to brackish saltwater.
Composite Advantage fabricated five modules per camel, each 56 ft by 11 ft, and shipped the structures on flatbed trailers to a nearby commercial shipyard. The camel's top cover panels can support equipment and feature a non-slip polymer aggregate. Each module was built with an open box design to allow for wave motion. The ship side of the camel was constructed with a fender system comprised of ultrahigh molecular weight polyethylene (UHMW-PE) facings on FRP panels with high crushing strength along with rubber fenders to absorb large berthing loads. Multiple internal shear panels were engineered to transfer load to the back side of the camel for reaction to the wharf or pier.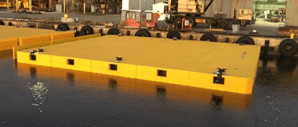 Modules were bonded and bolted together before being placed in dry dock where fender panels and rubber fenders were attached to the ship side of the camel. Stainless steel was embedded inside the molded structure at attachment and lift points to provide optimal strength for concentrated loads. The structure also contains mooring cleats and air equalization openings to accommodate strong wave action. Structural sandwich panels give the camel a natural buoyancy and are supported by extra flotation foam to ensure correct balance and trim. The finished camels — 63 ft by 56 ft by 6 ft, and weighing 325,000 lb each - were delivered to Mayport's wharf by tugboat in February 2017.
Project Details
CLIENT:
US Navy (Naval Station Mayport)
---
LOCATION:
Jacksonville, FL
---
WIDTH:
56 ft
---
LENGTH:
63 ft
---
DEPTH:
6 ft
---
WEIGHT:
325,000 lbs
---
SERVICE LIFE:
25 years no maintenance