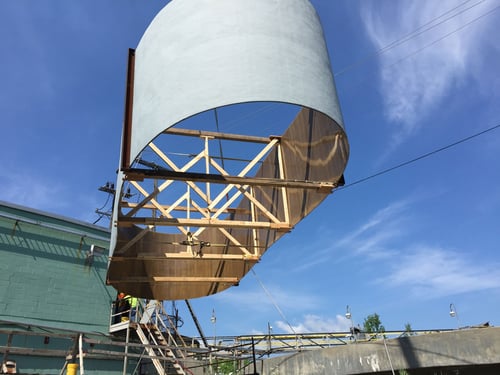 The Creative Composites group specializes in the fabrication and onsite chemical storage tank installation of new and replacement tanks across the United States including chloralkali tank installation. We combine over 60 years of experience with engineering expertise in the design and fabrication of cost-effective heavy corrosion resistant tanks and vessels. We have an extensive background with a tower, tower component, and stack manufacture and installation specifically in the fields of chemical processing and pulp & paper.
Typically, we ship tanks fully assembled to the customer; however, when the overall size requirements of the application dictate larger than over the road transportable sizes, we have a solution for that. Through Finite Element Analysis, our Project Engineers have developed proprietary "oblation" techniques so that we can transport over the road and then install tanks exceeding 24'0 in diameter and any height.
Our extensive Quality Assurance Program and highly skilled composite technicians ensure the onsite assembly will meet or exceed the same standards as the shop fabricated vessel. The same technicians that built your vessel in our Augusta facility are the same individuals that will travel to your location to complete the installation with the same level of attention to detail. We build our tanks and vessels to RTP-1 standards and specifications. Whether working with the onsite contractor or providing turnkey service, we have a history of "squeezing" large tanks into small places.
Examples include:
Replacing a 21'0x14'0 vessel when the access was only 8'x10′, and the headroom clearance was under 15'0
Manufacturing and installing (3) 9'0x20′ tanks more economically than the 316L stainless steel alternative
Fabricating a 20'x30′ storage vessel in Augusta, Maine, including ladder and top platform, shipping the components to South Carolina, and then assembling and installing the completed tank
Shipping the components for (3) 9'Ø x 11' tall tanks with nozzles to a customer location and then fitting them through a 7' x 6' square shaft underground for final assembly