Immediate Response
Our field service crews specialize in high-quality rehabilitation of worn and corroded tanks, vessels, and equipment. We firmly believe that 100% hand lay-up installation provides the highest quality corrosion resistant laminates and the most extended possible service life.
Whether it's a vat, pre-retention tube, tank, absorber, or any other piece of equipment requiring an FRP corrosion barrier or structural reinforcement replacement, the Creative Composites Group has the equipment and experience to restore your aging equipment. We can also add a structural and corrosion barrier into vessels and equipment made of other substrates including tile, steel, concrete, and brick.
Fiberglass Tank Repair
Our approach to tank relining and repair is to restore the tank to OEM specifications or better. Better can mean many things including the utilization of the latest resins available from the best manufacturers to adding additional corrosion barrier protection. Both can result in longer service life. The cost of relining in place in most cases is less than the cost of replacement, especially where plants have been built up around the original tank installations. Another benefit is the lining installation is scheduled in stages that suit a customer's timeline, meaning it can be completed over several shutdowns.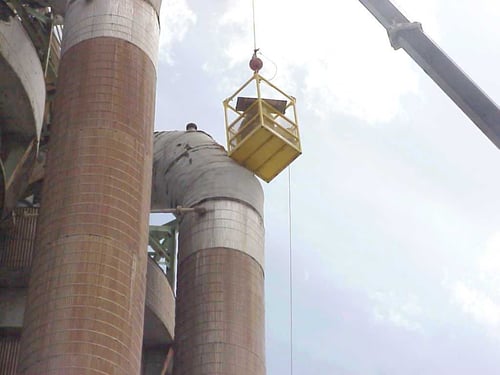 Along with FRP tank repair, we can also perform nozzle repairs and replacements whichever is warranted. Typically, we will recommend the replacement of nozzles 8" Ø and smaller and can reline and repair nozzles 10" Ø and greater. Originally provided tanks without a bottom entryway can be retrofitted with either a 24" Ø or 30" Ø manway and blind flange typically within one 8-hour shift. These entry points make for easier access for maintenance and inspections along with improved safety access for confined space purposes.
Importantly, our Maine location maintains 24-hour/7-day emergency field service crews for immediate response to our customer's needs across the United States. We understand the significance of downtime and lost productivity and will work safely and efficiently until the problem is corrected and the process up and running again.