Profile On The FRP Cantilever Sidewalk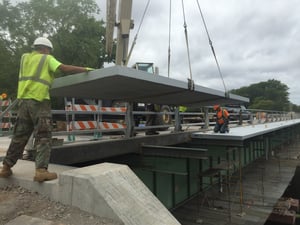 FRP cantilever sidewalks expand user experiences from a narrow crumbling concrete sidewalk hugging vehicle traffic to a wide sidewalk safely separated from cars and trucks. The key is lightweight decking that is strong enough to handle crowds of people without putting large dead loads on the vehicle bridge. Pedestrians want to be separated from motor traffic whenever possible. Reducing the width or number of vehicle lanes to accommodate a pedestrian walkway is not a safe alternative. Building a separate bridge carries a high price tag, so adding or expanding sidewalks on vehicle bridges with lightweight technology is an ideal solution.
An FRP cantilever sidewalk consists of decking panels on steel or FRP supports that attach to a vehicle bridge's exterior beams. FRP decking is 80 percent lighter than reinforced concrete panels. Prefabrication makes construction quicker and installation costs lower. Owners reap long term savings thanks to the natural corrosion resistance and low maintenance of FRP material.
More FRP Sidewalk Decking Options
Creative Composites Group offers a number of decking options that can be used to fabricate cantilever sidewalks. When selecting the best option, the Group's designers consider criteria such as pedestrian and vehicle operating loads, sidewalk width, support span, specified design features and installation limitations. The design flexibility of FRP means the ability to develop the best configuration for a bridge owner's needs. Pultruded decking—similar in width to timber planking—lasts decades longer than wood. Large panels that use infusion molding to incorporate design features, such as a cross-slope and curbs, offer another approach. Both fabrication methods provide superior performance, light weight and corrosion resistance. For more details on product options, read our blog on this topic. Case studies also provide a unique look at the advantages of FRP products in real world projects. See our collection of completed cantilever sidewalk projects in the CCG Resource center. The Tale of Two Sidewalks is the newest addition.
Speers Road Bridge Over Fourteen Mile Creek, Oakville, Ontario Canada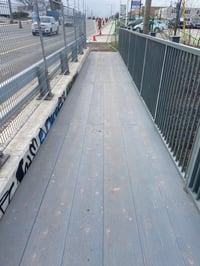 When the Oakville Department of Public Works [Ontario, Canada], launched plans to rehabilitate Speers Road Bridge and widen it to five lanes with separated on-road bike lanes in 2018, Creative Composite Group's FRP pultruded cantilever sidewalk was sourced. The sidewalk structure maximized the use of composite elements with FRP channel floor beams to support the Ameriboard decking and FRP picket railing on the outboard edge of the sidewalk. The sidewalk was anchored to a new cast-in-place concrete vehicle deck with steel brackets.
Soucin Construction Project Manager Matt Hinnecke found Creative Composite Group's Pultex structural channels and FRP handrail system of superior quality. The material's workability and simplistic design made it easy and quick to install. The finished walkway was 6.3 ft. wide and 94 ft. long. The sidewalk has been completed and construction work on the overall project is expected to conclude this fall.
Higgins Avenue Bridge, Missoula, Montana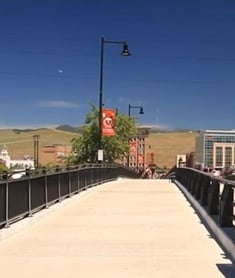 Higgins Avenue Bridge was built in 1962. In 2019, the City Council, along with the Montana Department of Transportation, signed off on a $16 million budget to rehabilitate the structure and add a wider cantilever sidewalk. The 55-year-old bridge connects downtown Missoula and experiences heavy vehicle, pedestrian and bicycle traffic.
Creative Composite Group's prefabricated FiberSPAN FRP sidewalk decking was selected as a lightweight, corrosion-resistant product that could reduce installation time and labor costs along with maintenance. It is best suited to applications that dictate wider walkways with multiple features including cross-slope, curbs, railings and drainage scuppers.
The FRP sidewalk is 448 ft. long and 14 ft. wide for a total of 6,272 sq. ft. Thirty-nine prefabricated sidewalk panels [12 ft. long by 14 ft. wide] comprised the sidewalk. Decking was engineered to support a pedestrian live load of 90 psf and a vehicle load rating of AASHTO H-5 representing a 10,000 lb. maintenance vehicle. The panels were molded with a 1 percent cross-slope, curbs and drainage scuppers to control water runoff. Railings were top-mounted to the curbs. Supported on longitudinal stringers, the FiberSPAN deck panels were fastened to the stringers with stainless steel connection clips. The cantilever sidewalk has a non-slip polymer aggregate overlay surface that can withstand steel plows for snow clearing.