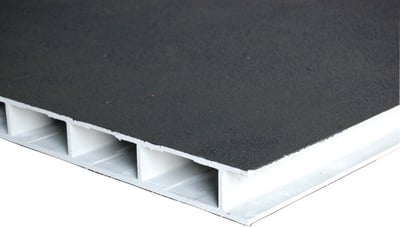 Creative Composites Group offers three standard resin systems for the decking, flooring, grating and panel products:
Isophthalic Polyester
Isophthalic Polyester Fire Retardant (IFR)
Vinyl Ester Fir Retardants (VFR)
Proper resin selection is based on the service conditions of your asset and should include the temperature, humidity, chemical environment, and the pH of the liquid or gas in contact with the pultruded profiles. The design dead load as a percentage of the ultimate load should also be considered in the resin selection process. Proper resin selection is paramount to ensuring a long service life of your asset. Creative, with the aid of their resin supplier, provides an extensive list of chemical compatibilities for selecting the proper resin for your project. Visit our web site for the most up to date chemical compatibility chart.
Creative manufactures their profiles with a 10 mil surfacing veil. The surface veil creates a resin barrier that is made up of 75% resin. The resin layer enhances the long term performance of the pultruded product in harsh chemical environments.
Vinyl Ester (VE) Resins are based on bisphenolA epoxy resin. VE resins provide resistance to a wide range of acids, alkalis, bleaches and solvents for use in many chemical environments. They also offer excellent toughness and fatigue resistance. Isophthalic Polyester (I) resins pultrusions are manufactured for corrosion related applications.
I display excellent structural properties and are resistant to acids, salts, and many dilute chemicals at moderate temperatures. They perform well in acidic environments; however, I pultrusions are not recommended for caustic or alkaline environments.
The pH should be kept below 10.5. Oxidizing environments usually present limitations.
Special colors and resins are available where architectural, chemical, temperature, flame, smoke and toxicity may dictate that our standard systems will not meet your criteria. Creative's highly skilled engineering team can put together an engineered solution to fit your application.