The Creative Composites Group delivers innovative, engineered solutions so that our customers take advantage of the benefits of Fiber Reinforced Polymer (FRP) composites. This means our customers have products that are lightweight, high-strength, corrosion-resistant, and long-lasting! The Creative Composites Group combines the expertise of many companies to offer the best in composite design and advanced manufacturing processes.
If you can imagine a product or project, we will work with you to make it happen. The companies of the Creative Composite Group have the engineers, technology, and vision to turn your big ideas into reality, for projects of any size, shape or scope.
The Creative Composites Group consists of U.S.-based composite companies within Hill and Smith Holdings PLC. Hill & Smith Holdings PLC is an international group with leading positions in the design, manufacturing, and supply of infrastructure products and galvanizing services. The Group's operations are organized into two main business segments: Infrastructure Products (Utilities & Roads) & Galvanizing Services.
The Group's genesis was in 2008 with Creative Pultrusions joining Hill and Smith. As Fiber Reinforced Polymer (FRP) composite technology continued to gain acceptance for a wide range of applications and markets, HS and CP pursued a growth strategy of complementary manufacturing processes and products. In 2016, the E.T. Tectonics product line of fiberglass bridges was acquired. In the spring of 2017, Kenway Composites brought filament winding and hand layup processes. Tower Tech joined later on in 2017 with its market-leading cooling tower products that use pultruded structures. Then in 2018, Composite Advantage brought large-part infusion molding to the group. These companies solidified the Group's position as the leading supplier of FRP composite products in many markets including bridges, waterfront, utilities, rail, corrosion, and standard structural profiles.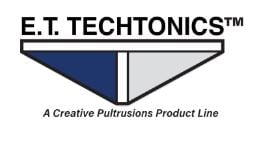 E.T. Techtonics
214 Industrial Lane
Alum Bank, PA 15521
Phone: (814) 839-4186
Fax: (814) 839-4276
Toll-free: (888) 274-7855

KENWAY Composites
681 Riverside Drive
Augusta, ME 04330
Phone: (207) 622-6229
Fax: (207) 622-6611
Composite Advantage
750 Rosedale Drive
Dayton, OH 45402
Phone: (937) 723-9031
Fax: (937) 723-9034