DAYTON, Ohio (October 1, 2019) Chelsea is Massachusetts' smallest city with a land area of just 1.8 square miles yet the Suffolk, County town is the United States' 26th most densely populated community. Overcrowded downtown transit stations prompted the Massachusetts Bay Transportation Authority (MBTA) to open Bellingham Square Station in 2018. But the hills and elevations between junctions meant commuters had to walk more than three blocks to navigate between Main Street and the train station. A FiberSPAN three-level-switchback ramp provided an Americans With Disabilities (ADA)-compliant direct pathway that made commuter time safer, shorter and more convenient.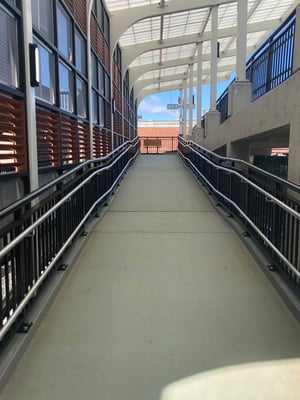 "The Massachusetts Bay Transportation Authority needed a wheelchair accessible ramp," says Scott Reeve, president of Composite Advantage. "Traditionally switchback ramps are constructed with reinforced concrete. But spatial constraints and complex design requirements made the use of concrete prohibitive in terms of material and labor costs. Switchback ramps reduce the overall footprint of a ramp significantly. Fiber reinforced polymer (FRP) is lightweight and quick to install eliminating issues with traffic disruption and the need for extra manpower and machinery needed to lift and position heavy concrete ramps."
Almost 90 percent lighter than concrete, FRP bridge deck panels were prefabricated in sections up to 22 ft. long by 8 ft. wide and 5 in. deep. The project called for a deck weight of 9 psf and a 90 psf live load with a deflection rating of L/360. Beam spacing on a concrete beam superstructure required spacing up to 20 ft. with a deck-to-beam connection using angle brackets. Custom requirements included switchback ramps, ramp landing panels with multiple slopes to drainage scuppers, a non-slip overlay using blue-gray quartz aggregate, and a guard rail that attached to integral curbs. The FRP switchback pedestrian bridge with a total deck area of 2,092 sq. ft., was installed in January 2018. "Over time, the agency has reduced maintenance costs," Reeve says.
Composite Advantage supplies innovative fiber reinforced polymer (FRP) products for major infrastructure markets. To create its engineered solutions, CA pairs progressive designs with its capability to mold large parts, perform on-site assembly, and support customer installations. The supplier has been developing lightweight, high-strength, cost-effective FRP goods for structurally demanding applications and corrosive environments since 2005. Many of these products have paved the way for first-time use of FRP composites in infrastructure, rail and water applications because of their performance attributes. The supplier's comprehensive lineup includes bridge decks, trail bridges, cantilever sidewalks and rail platforms to fender protection systems, pilings, naval ship separators and other waterfront structures. CA is member of the Creative Composites Group, a subsidiary of Hill and Smith Holdings PLC.
Visit www.compositeadvantage.com or contact Composite Advantage at 937-723-9031 or info@compositeadvantage.com.