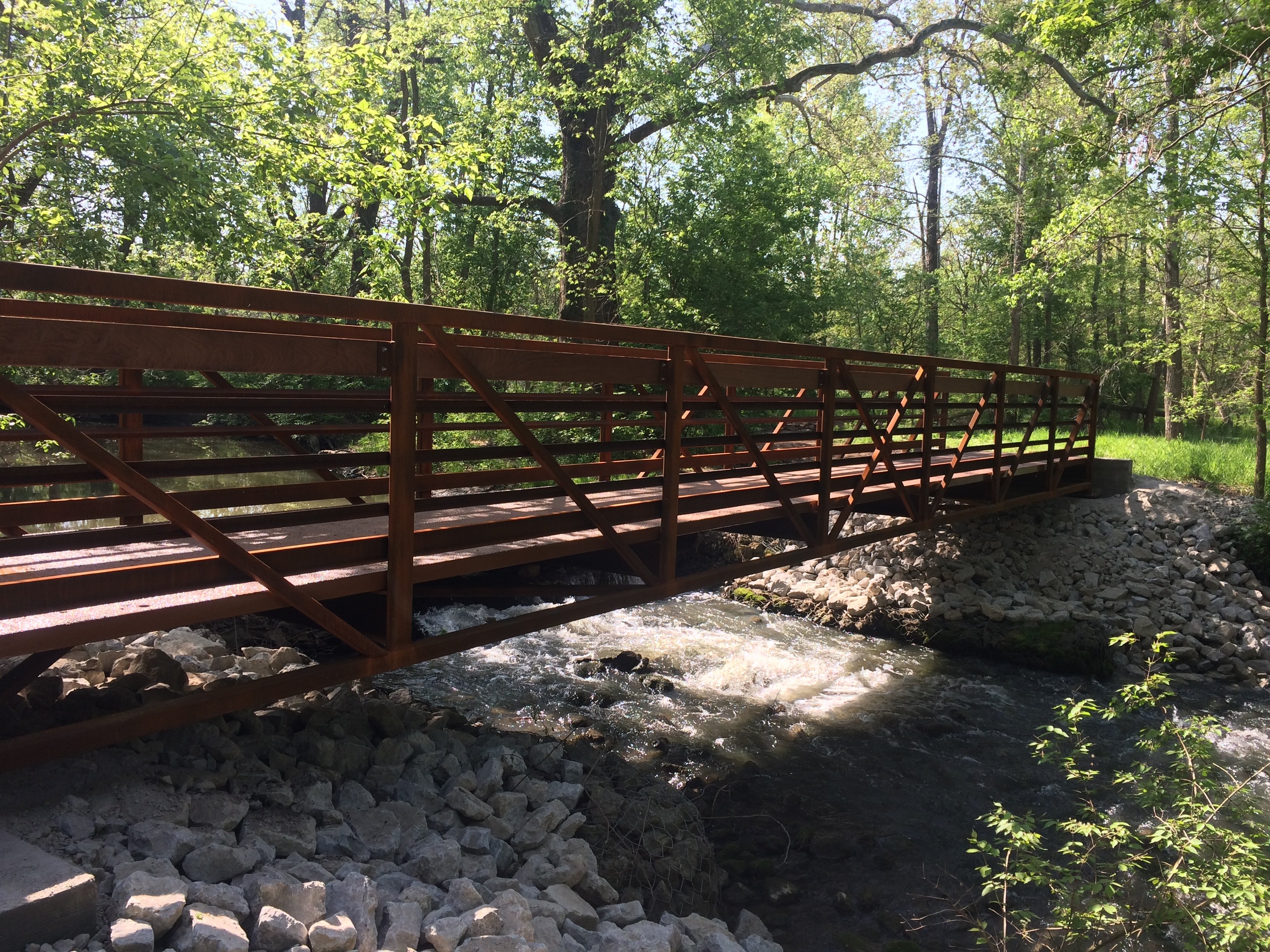 DAYTON, Ohio – (August 13, 2015) –In 2012 flooding and erosion prompted Ohio's Beavercreek Township to close a bridge crossing that connects Rotary Park, Phillips Park and the Beavercreek Wetlands Nature Preserve. Green County park employees had pieced together the original bridge from used county highway bridge materials. The Township wanted something different and found they didn't have to look further than their own backyard for a replacement. Composite Advantage was hired to design and build a no-maintenance structure.
"Our FiberSPAN bridge deck products are a good fit for these types of applications," says Scott Reeve, president of Composite Advantage. "We're able to provide a total bridge system that includes prefabrication and installation through our partner FRP Constructors."
CA designed the bridge deck to support pedestrian loads up to 85 psf and maintenance vehicle loads. The robust deck was molded to withstand uplift force in the event of a 100- year flood. To give Green County a maintenance free span, CA specified a weathered steel truss 45 ft. superstructure from Colorado-based Big R Bridge. CA technicians molded two large 3 ½ inch thick, 6-foot-wide Fiber Reinforced Polymer bridge deck panels with black pigment. A brown non-slip wear surface was used to simulate timber planking. Solar-powered lights were also added for illumination after dark.
FRP Constructors transported the prefabricated bridge with FiberSPAN bridge deck to the park and set it in place. Installation took less than a day. The light weight structure opened up trails that had been closed to the community for three years.
Composite Advantage is the leading manufacturer of very large Fiber Reinforced Polymer (FRP) composite parts, up to 100 feet, for structurally demanding applications and corrosive environments. CA combines its unique knowledge, innovative design, field experience and efficient manufacturing processes to support its core products - zero maintenance bridges and bridge decks. CA's other product lines include vehicle bridge decks to handle fully loaded 90,000-pound truck-trailers; temporary road mats for energy exploration; and waterfront infrastructure for US Navy bases.
Contact Composite Advantage at 937-723-9031 or info@compositeadvantage.com.