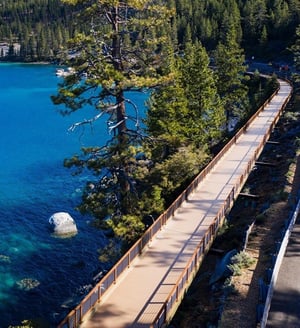 Recent forecast reports show that product performance requirements, cost thresholds and customer demand are driving a growing number of industries—from aerospace, automotive and consumer to marine, infrastructure and rail—to choose composites. The material's design flexibility and the myriad of processing methods and tools make it possible to produce parts for just about any application. That, combined with its' strength, light weight, corrosion resistance and long life, make it easy to understand why the composites industry is growing.
Our work is also growing. Looking at 2020, our projects will be split between pedestrian and vehicle bridge decks, pilings for fender systems, rail and a splash of Navy work thrown in. The need for corrosion resistant products that carry value-adds is the primary reason people seek us out. Let me explain.
Our pedestrian bridge systems are being sourced for large, signature structures that are showpieces for parks and entertainment areas and as access points for people in congested, urban cities. Our FRP bridges have become critical connections for visitors, commuters and tourists—a way for people to get where they are going whether it's a remote park path to extend an outdoor adventure or a portal to important destinations in places like downtown New York.
While corrosion resistance, light weight and design flexibility were factors in customers' choices of FRP for pedestrian bridges, light weight won out as the deciding factor for our 2020 vehicle bridges; even over corrosion resistance. Our upcoming jobs fall into the category of movable bridges—both lift and swing designs. The configuration dictates light weight as the key performance requirement.
The market space where we are seeing the biggest growth hike compared to previous years is rail and transit. We installed our first FRP rail platform in 2009 for Chicago Metra System in New Lenox, Illinois. Since then we've worked hard to educate owners and engineers and develop and improve the product based on feedback and testing. As you might expect, corrosion is the number-one reason FRP is so attractive to this industry. Our projects are predominantly located in the Northeast region of the U.S. where deicing chemicals are heavily used. The second reason is just good business sense. Because our panels are light weight, they can be installed quickly with minimal to no disruption of train schedules. Our double-tee product makes it possible to install a lot of platform area quickly. The panels are easy to move and don't require special equipment. This year we're seeing the culmination of all our hard work. Our FRP FiberSPAN-R products are now becoming the gold standard for rail projects in U.S. states where winter is the enemy of traditional materials.
Our FRP products are also being adopted as the material of choice for pilings for fender protection systems. The real indicator of this is that we've been selected to produce FRP pilings for even larger fender protection systems engineered to ward off high energy impacts from big ships. The main advantage for this market is design flexibility. We're not only able to engineer a fender system that reduces installation costs, but actually beat out traditional materials in dollars saved. And of course when you talk about pilings, corrosion resistance is another key advantage along with the fact that it is safer for the environment since our pilings don't leach creosote into the water.
It's dead ahead with the Navy. We shipped FRP camels to Guam and look forward to producing more as naval customers gain a return on investment from no-maintenance products.
With a full slate of projects on the docket, we plan to continue supporting ACMA and work through our industry trade associations to meet the needs of owners, engineers and other FRP users. Our vision statement is to see FRP composites enjoy the same acceptance as traditional materials. And we're beginning to see that. FRP is growing up. It's becoming a standard and not just a niche.