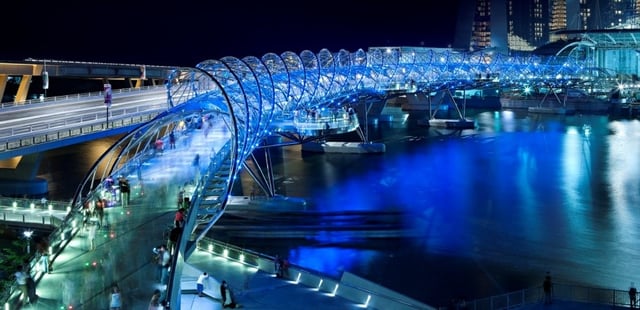 In this day and age, big cities are seeking out ways to make their cities really stand out. One increasingly popular way of doing this is to create innovative architectural designs to complement urban landscapes. We're in the business of bridges so, of course, we are here to highlight yet another unique bridge design.
Marina Bay is one of the most popular tourist attractions in Singapore, and includes a casino, upscale hotels, artistic attractions and a museum. City planners wanted to create a way to connect all of the attractions in this area to provide better access for pedestrians and tourists. More pedestrian traffic would bring dollars to local businesses. Planners also wanted to maintain the modern design elements used in the surrounding area. The resulting bridge is a double helix structure resembling DNA.
In 2010, The Helix opened. The Helix is a pedestrian bridge that is over 900 feet long (the longest pedestrian bridge in Singapore) and composed of stainless steel. The bridge stands almost thirty feet above the water, allowing boats to pass beneath it. The Helix is the first bridge design of its kind. Since this bridge structure uses less steel than a traditional bridge, the Helix costs millions of dollars less.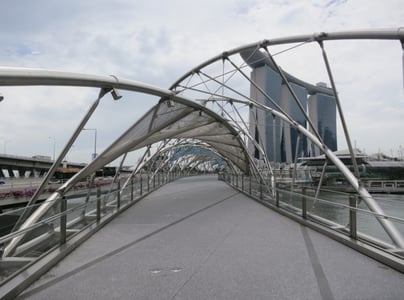 Pedestrians enjoy the bridge for its convenience and beautiful views of the city. At night, the bridge is lit with thousands of LED lights. It is a great place to watch fireworks for Singapore's National Day celebrations. If you go, don't miss the artwork on display, courtesy of local youths.