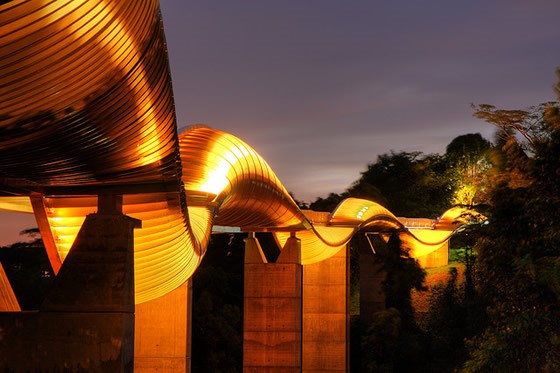 In a recent blog, the Gateshead Millennium Bridge needed a height that allowed boats to pass under it. Height is not an issue with this bridge, the next in our series of unique bridges, as its the highest pedestrian bridge in Singapore. The Henderson Waves Bridge spans Henderson Road and stands over one-hundred feet tall and about nine-hundred feet long.
This distinctive pedestrian bridge opened in 2008 in the south of Singapore. It connects Telok Blangah Hill Park and Mount Faber Park, two of three parks making up a 5K hiking trail called the Southern Ridges Walk. Hikers and cyclists can observe diverse tropical vegetation along this stretch.
Even more disti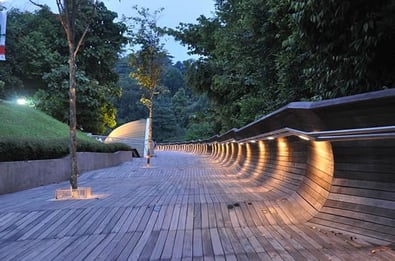 nctive than the height of the bridge is its shape, resembling a long, undulating wave (hence its name). A rare material only found in Southeast Asia called Balau wood was used for the bridge. Its noteworthy structural elements allow it to have small alcoves where people can enjoy views of the city and island flora. From 7pm to 2am each night, the Henderson Waves Bridge is illuminated with LED lights which further accentuate its remarkable shape.