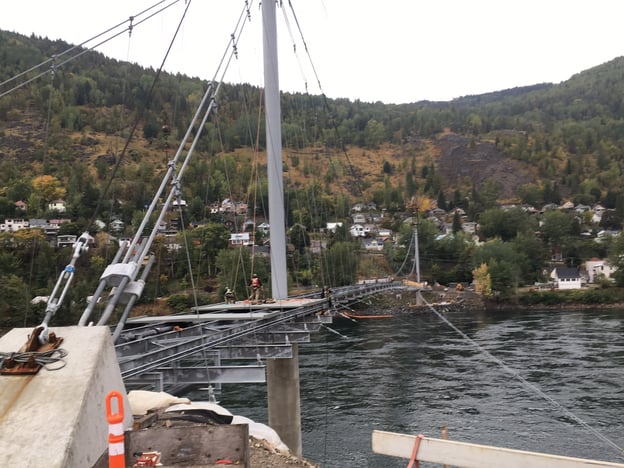 Take one look at Trail, British Columbia's Columbia River Skywalk and you see that this pedestrian bridge is nothing short of impressive. Two massive towers protrude upwards, as thousands of feet of high-tensile cable strain against the weight of the steel bridge skeleton and the environmental forces of the mighty Columbia River. The steel structure stretches out to meet each side, growing wider as it passes beyond each tower. It hangs in perfect balance.
One by one, a 75-ton mobile crane picks up a Composite Advantage appropriately-numbered FiberSPAN panel off its stack and begins carefully lowering it into place. The crane operator must guide them with utmost precision between all of the cables, then place them in order, starting at the towers and working towards the abutments.
Fearless workers must thread themselves under each panel and around each steel beam, while trying to avoid the many obstructions, in order to bolt the FiberSPAN panels into place. Before you know it, five panels are in place, and can be used as a staging platform for equipment and materials.The electrical and plumbing work can now progress simultaneously alongside the bridge install. I told you this bridge was impressive. It even has a high-line crane (think cable car) set up between the two towers, carrying workers, material, and even the FiberSPAN bridge panels, to the center of the bridge. Once there, workers must carefully rotate and lower the bridge deck into place, all the while fighting against the wind and the location of all the cable stays that support the suspension bridge.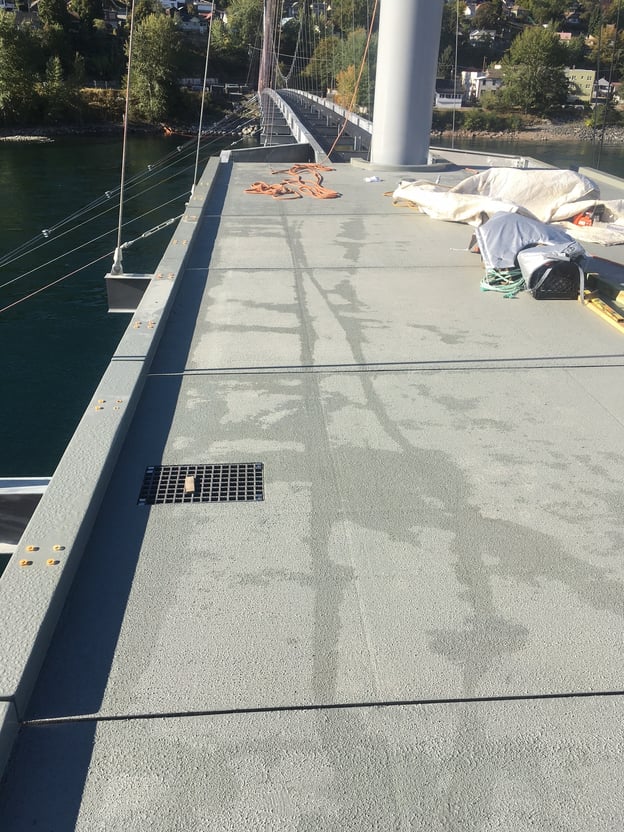 The final obstacle that the construction crews must overcome is the local wildlife. Native to Trail, British Columbia, black bears have been known to wander through the bridge site (or swim under it). They too are curious as to what's being constructed. The workers must be actively aware of the presence of black bears so that they can make sure to keep a safe distance from them.