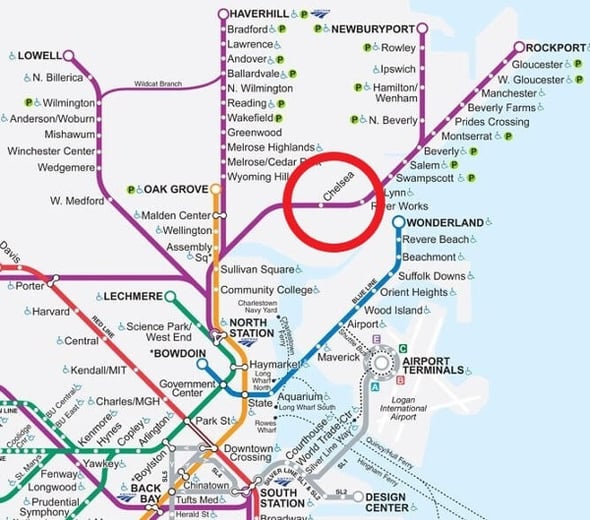 In December 16, 1773, American colonists staged the Boston Tea Party at Griffin's Wharf in what most call today the city of Liberty or Bean town. The group dumped 342 chests of imported tea into the harbor to protest against Britain for imposing taxation without representation. On April 19, 1775, British soldiers fired on militiamen at Concord's North Bridge. When colonists responded with a shower of black powder and lead, poet Ralph Waldo Emerson called it, "the shot that was heard around the world."
Historic events like these earned Boston, Massachusetts the moniker, "the birthplace of the American Revolution." What isn't as well known, is that Boston is also the birthplace of public transit in America. The country's first subway tunnels under a central public park [Boston Commons] in downtown Boston are still in use, along with ferries, trains and boats.
Boston was little more than a peninsula in the 1600s. It was a two-day journey by foot for farmers and residents of Chelsea (just north of the peninsula) to reach the city. In 1631, Thomas Williams opened the first chartered transit service in the U.S. The geography and population of the city grew following the Revolution. This made way for the first stagecoach between Boston and Cambridge in 1793. By 1887, some 20 companies provided horsecar service with a fleet of 8,000 horses. In 1889, Boston's city council debuted the first electric streetcar. In 1947, state legislature formed the Metropolitan Transit Authority (MTA) which authorized the expansion of Boston and Albany Railroad's rapid transit in 1959. The Green Line D Branch is still in service today between Boston and Newton. By the 1970s, daily riders grew to 300,000.
Today, the Massachusetts Bay Transportation Authority (MBTA) is one of the largest public transit systems in the country, serving more than 200 cities and towns and more than 1,000,000 riders a day on subways, buses, ferries and commuter rail lines.
We got to know the town of Chelsea in 2019 when we installed a fiber reinforced polymer (FRP) three level-switchback bridge at Bellingham Square Station. The structure eliminated a long walk for commuters by providing a direct pathway to the bus and rail station.
In May 2019, we were also awarded a contract for platforms at the brand new Chelsea Rail Station located nearby. The original structure had fallen into disrepair and was inconvenient for passenger transfers between different modes of transportation. The station was also inaccessible to people with disabilities. The MBTA invested $32 million to build a new station with FRP 800-ft. long platforms on either side of the tracks. We were also tasked to integrate shelters, lights, railings and other amenities. The FRP platforms were installed in August 2020. Features like benches, shelters and lights are currently being constructed. We like to think that FRP is playing a small part in carrying Boston's transportation heritage forward.
Next week we'll give you a detailed look at the technology that went into a project with a lot of moving pieces. FRP is taking rail station platforms to a new level of performance, but there are also things general contractors and designers need to know. That can be difficult if you have never worked with FRP before. We want to dig into that and shed some light on the topic in a second installment of this blog series on the Chelsea Rail Station.