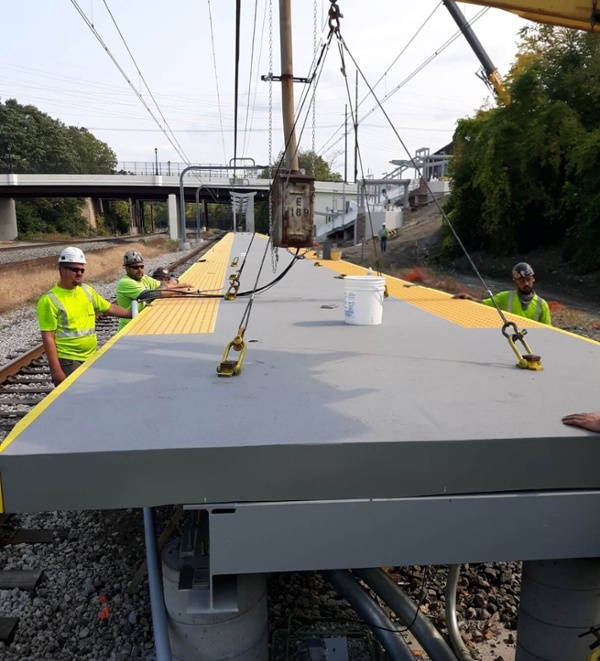 The Northeast Corridor (NEC)—which runs from Boston to Washington DC—has the highest population density in the U.S. More than 2,200 trains carry approximately 750,000 riders per day, making the corridor the nation's busiest passenger rail line. The NEC supports a $2.6 trillion economy. The connections between the corridor's large cities are rail lines primarily owned by Amtrak, with New York, the Connecticut Department of Transportation and the Massachusetts Bay Transportation Authority owning parts of the northern section.
The system's traditional concrete platforms deteriorate in short order (as little as 15 years) due to the impact of high traffic and exposure to harsh de-icing chemicals. So it's no surprise that these agencies have been installing fiber reinforced polymer (FRP) platforms at an increasing rate. The natural corrosion resistance of FRP composites provides long life with little maintenance. An added benefit is the fast installation of the large, prefabricated panels which minimizes the construction impact on train schedules and rider convenience.
Mass transit is also important in metropolitan areas beyond the NEC. Cleveland has now joined the list of FRP rail platform homes. Fighting lake-effect snow takes a toll on these structures. So the Greater Cleveland Regional Transit Authority (GCRTA) recently installed a FiberSPAN rail platform at its E79th Street Station. A center platform; it has tracks on both sides. The new FRP platform is 254 ft. long and 10 ft. wide. Sixteen FRP panels were installed; with the typical panel being 20 ft. long and 10 ft. wide. As a center platform, the panels were molded with a crown. The top surface has a non-slip overlay between warning tactiles on both edges. Panels were molded with cutout locations for light posts. Benches and equipment are attached to steel plates embedded in the FRP panels.
Even though most construction contractors have not worked with FRP panels before, they find them easy to install. The onsite crew started the panel installation process at 4 a.m. and had all 16 panels installed, leveled and clipped to the steel supports by 2 p.m. This was despite having to work around canopy structures and waiting for electricians to finalize work on an area of the previous platform. The crew was very pleased with the ease and speed of the installation. They commented that they definitely prefer installing FRP over precast concrete. The FRP panels were truer to shape and did not require nearly as much work to set properly when compared to the pre-cast concrete panels they were accustomed to. Everyone I spoke with was impressed with the FRP platforms and believes this is the way they want to do these platforms in the future.