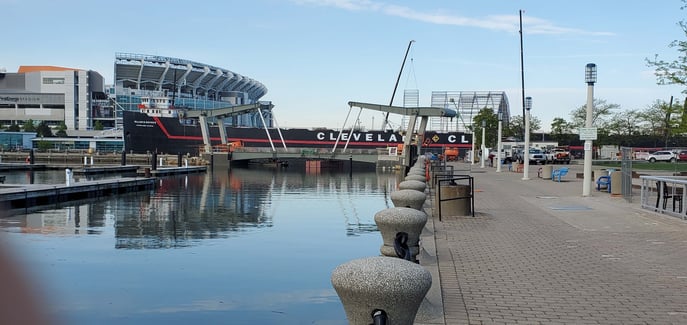 Cleveland, Ohio was founded in 1796 by the Connecticut Land Company. In 1895, the Cleveland Yachting Club (CYC) built docks and a clubhouse on the city's Lake Erie shoreline. At the time, East 9th Street stopped at the railroad tracks and its extension was dubbed Erie Street Dock. Today, Cleveland's downtown lakefront real estate supports a shipping hub, is home to football, basketball and baseball and the birthplace of rock and roll.
North Coast Harbor is a downtown district where the lake connects with the city. It houses venues that include the Rock & Roll Hall of Fame and Museum, the Great Lakes Science Center and FirstEnergy Stadium, a multi-purpose facility that is home field for the Cleveland Browns. It is also the site for the city's first fiber reinforced polymer (FRP) pedestrian draw bridge; designed and fabricated by the Creative Composites Group (CCG). The idea for a pedestrian drawbridge that could connect Voinovich Park to the plaza near the Rock & Roll Hall of Fame was part of a 2004 lakefront plan created to bring new energy and access to the East 9th Street pier. In addition to connecting pedestrians to restaurants and entertainment, the bridge would open to allow boats in and out of the Rock & Dock transient marina. FRP was the material of choice for the city and the Ohio Department of Transportation (ODOT) due to its design flexibility, elegant simplicity, light weight and corrosion resistance.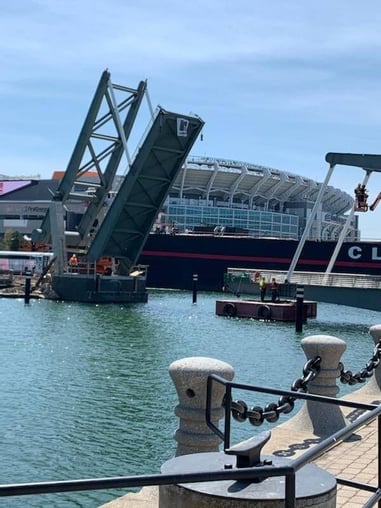 Plans for the pedestrian walkway on a new-build draw bridge were solicited in 2019. Performance criteria called for a uniform pedestrian live load of 90 psf, a vehicle maximum load rating of an 8,000 lb. [wheel load], and a wind uplift load of 20 psf. Design requirements included Class II fire resistance [ASTM E-84] and a deck operating range of -40 degrees Fahrenheit to 160 degrees Fahrenheit. FRP deck panels were prefabricated with curbs, drainage scuppers and a railing attachment. A non-slip, pedestrian-grade Matacryl surface was added. The bridge deck's gray color was chosen to allow the structure to blend with its surroundings.
The ability to tailor FRP composites allowed engineers to modify the design to streamline the draw bridge function. Initial plans called for more deck panels. With a draw bridge, more deck panels mean more complex joints and connections. To simplify construction, two large FRP panels [one on each side] were manufactured and installed this month. Panel ends taper to prevent interference with the abutment when the bridge opens and closes. The FRP deck was attached to the steel superstructure with tight tolerance bolted connections to ensure panels won't shift from repeated operation of the draw bridge. Bolts were fabricated from stainless steel to resist corrosion. Each FRP panel is 51 ft. long and 13 ft., 8-in. wide. Deck thickness ranges from 7.5 in. to 8.75 in.
Project construction is expected to be completed this summer. The District is optimistic that pandemic restrictions will be lifted for public gatherings and has new program planning underway for the 4-acre park. The new FRP draw bridge will close the gap to accessible parking and provide a second entry and exit location for lake shore events.