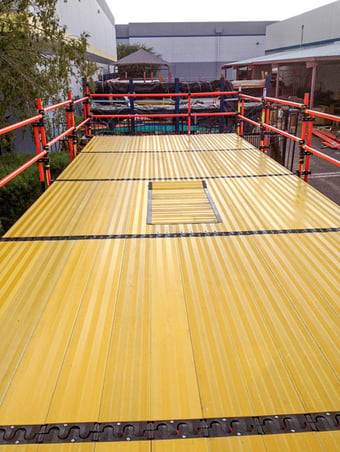 For electricians and contractors, scaffolding is not a trivial worksite fixture, it is safety and productivity. For these critical parts of the construction process, the Creative Composites Group offers the Bothwell Composite Plank System. This system was created to help electrical contractors have a safe, reliable, and easy-to-use system for working inside buildings. This system provides revolutionary features and benefits not available to the industry until now!

Lighter than the standard aluminum options, our system is faster to install and has interlocking fingers eliminating tripping hazards, making for a safe transition when planks are interlocking. The easy-to-assemble scaffolding is compatible with existing frames and bracing used throughout the scaffolding industry worldwide.
We pultrude our planks from polyester resin and glass fiber reinforcements; materials that provide natural electrical insulation. The planks are available in custom lengths to meet our customer's needs. We provide a patented, non-slip surface for maximum traction to provide user safety while working at higher heights. The planks feature integral c-rails along the edges to accommodate other accessories.

We offer two options for ends of the planks - one for hook ends and the other with end caps. The hook ends are compatible with existing scaffolding frames which makes them perfect for quick use. The unique design also allows for ramping capabilities, if necessary. The patented hook end-connector has interlocking fingers that loop over the scaffold bar creating a non-lap, non-trip system. The hook ends are injection molded with very durable nylon thermoplastic and incorporate a metal insert for increased strength and stiffness.

Using end caps for standard scaffolding planks is the other option. They are designed to overlap the ledger bar and be lapped, just like a traditional wood scaffolding plank. The unique design of the end cap produces better impact resistance. The end cap features an integral handle for ease of handling and access holes for securing the plank. The cap is injection molded with a durable nylon thermoplastic.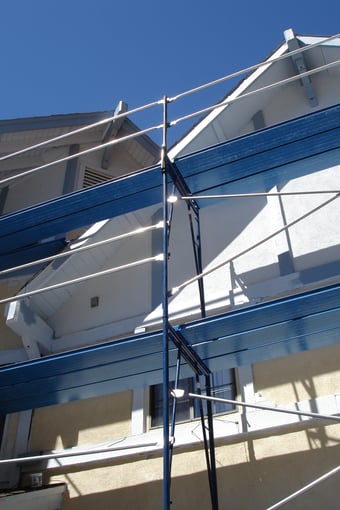 Because of the inherited traits of fiberglass, the planks will not rust or corrode. The planks also resist fungal decay, are non-conductive and lightweight - significantly reducing the chances of back and shoulder injuries while working. Our system provides increased field assembly efficiency by not requiring heavy tools to assemble the scaffolding.

Safety advantages of the plank include electrical insulation, slip-resistant surface, and no need for overlapping planks which also reduces tripping hazards. We want to provide you with a safe work surface for your scaffold system. Our Bothwell Composite Plank System is ideal for a safe and efficient workspace.