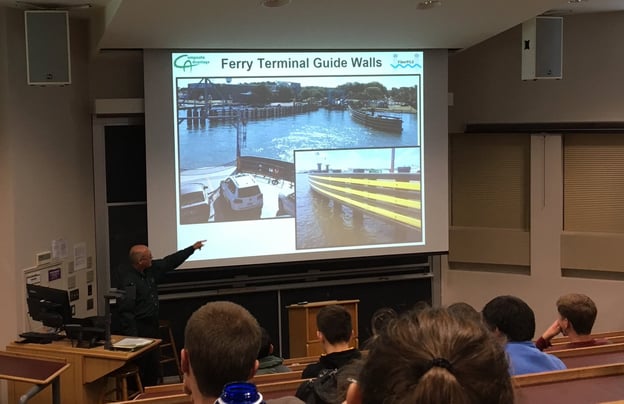 Interested in entrepreneurship? And civil engineering? You're in luck - the civil engineering profession offers many opportunities for owning your own business. In fact, civil engineers own more businesses than any other type of engineer! I gave a presentation on this topic earlier this month for the University of Notre Dame Department of Civil & Environmental Engineering & Earth Sciences. Here's the synopsis.
While studying aerospace engineering at Purdue University (with a concentration on fiber composite structures), I didn't necessarily set out to be a business owner. After finishing another Master's Degree (this time in engineering management at Washington University), I worked at McDonnall Douglas and Lockheed Martin - hardly the entrepreneur route.
However, my interest in large fiber composite structures was strong, and in 2005, Composite Advantage was born. I started at the National Composite Center (NCC), which acted as an incubator for my one employee operation. The NCC offered space, staff and equipment, while we developed technology for molding large parts. I also brought on Composite Advantage Vice President Andy Loff.
As it became clear the market was only growing, Composite Advantage left NCC in 2007 for our own facility just north of downtown Dayton. We continued our mission, to harness the unique features of FRP materials to design and manufacture high performance products for markets that did not traditionally use composites. We hit the ground running, managing to survive the 2008 recession.
Of course there's a lot more to starting a business than just an idea, a startup period and a move. Though our company initially had many ups (we won the 2009 Infinite Possibility Award, the 2009 Economic Development Project of the Year and the 2010 Soin Award for Innovation), we also had our share of stumbles. Some of our initial products weren't big hits. Sales cycles were long. Personnel problems happened. We adapted.
While adapting, we learned many lessons. Here are a few that I, as a company owner, find the most valuable:
Never stop learning. Keep going to courses, conferences and seminars.

Build a strong relationship with a bank.

Don't hire or buy equipment until you know you really have the work.

Find a great mentor.

Use outside resources - there are a lot out there.
Whether you're interested in a startup involving design, consulting, construction and/or manufacturing, the business side of the engineering world is ready and waiting. And even if you don't set out to own your own business, you may just surprise yourself.