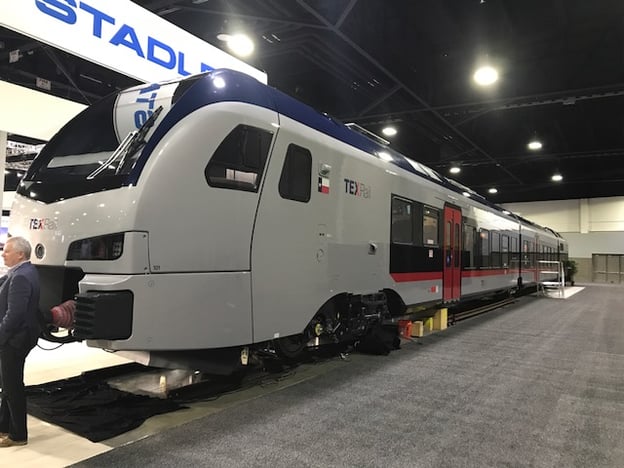 Last week in Atlanta, I attended the triennial American Public Transportation Association (APTA) EXPO. The event was great for anyone interested in learning about public transportation. From rubber seals to rail cars ready for delivery, any and everything associated with mass transit trains and buses was on display. The giant locomotive engines and the working bus wash stations set up at the EXPO were a surprise for a new attendee like myself. But why did the Composite Advantage team trek to Atlanta to see buses?
I attended the EXPO to better understand how (and where) Fiber Reinforced Polymer (FRP) structures can benefit the transit market. Though some transportation agencies have implemented FRP rail platforms, this innovative material is used at a minority of stations.
At Composite Advantage, we work hard to understand what owners and designers value in FRP, allowing us to constantly evolve to meet customer requirements. We've found that in the northern US, FRP's corrosion resistance to snow-melting chemicals gets the attention of many a project stakeholder. We've also seen that stakeholders often value lightweight, prefabricated panels just as much as corrosion resistance. The lightweight panels make installation faster and easier - this is very important if/when construction can only occur when stations are closed to train traffic. Additionally, the reduced dead load has a multiple effect for some stations in reducing the size, weight and cost of the substructure.
A section of the FiberSPAN-Rail product was on display in the exhibit booth of one of our suppliers and partners, ADA Solutions (which I really appreciated). When visitors reviewed the variety of warning tactiles, they were also able to learn more about FRP platform panels.
Since pedestrian bridge decks were one of our first products, it's gratifying to find more of the decking at rail and bus stations. With transit use and ground traffic (vehicle, bicycle and pedestrian) on the rise, the "up and over" movement of people is safer and keeps the crowds flowing.
Anyone who drives (or sits in traffic tie-ups) should consider that the American "All of the Above" problem solving strategy will have to feature more and more mass transit - including buses and trains.