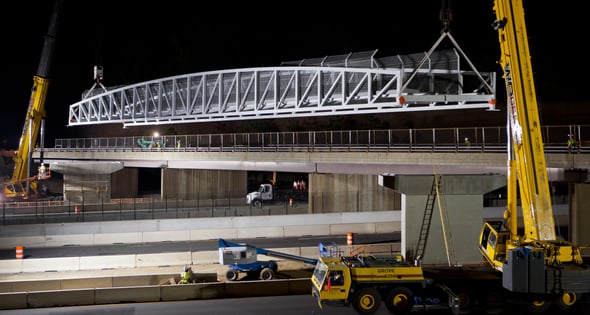 The impact of infrastructure construction on the public is a very emotional topic. What is the trade-off between nighttime construction costs with the cost of the public's time? Then add in the safety of construction workers and inevitable vehicle accidents during traffic congestion.
One available solution is to use large, prefabricated Fiberglass Reinforced Polymer (FRP) structures for fast installation. FRP has many benefits such as corrosion resistance, design flexibility, and for certain projects, the driving factor for using FRP is its light weight. Bridge decking and rail platform panels are only 10% to 15% the weight of reinforced concrete panels, which substantially improves installation time.
To minimize shutting down traffic lanes for the construction overhead, bridges can be fully assembled near the job site, brought near the bridge piers and lifted into place. FRP decking can significantly reduce the weight of the bridge assembly so it can be more easily erected in a short time period, which minimizes traffic disruption. A perfect example of this was an installation we completed of a fully assembled pedestrian bridge over a four-lane highway in just 15 minutes. Besides the faster time, the lower weight benefit is also safer and only requires the use of smaller cranes.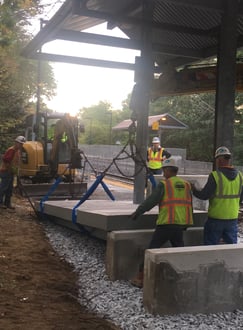 Another unique benefit to FRP also lends itself to quick turn-around times. Much larger panels can be installed more quickly, which means that more surface area is erected per day. Actual construction time for decking or panels on the job site is always shorter when using FRP. The light weight panels can be installed around traffic schedules - especially at rail and mass transit platforms where safety protocol dictates that construction cannot be active while trains are moving at the station. A certain amount of time is required to move a panel into position, whether it is 40 square feet or 400 square feet. So, when only one or two panels can be installed during that brief window of time between train activity, a lot more surface area can be installed.
Location and traffic density also affect the selection of FRP. Fast installation times are very important in larger urban areas where traffic jams have a high cost to society where commute time is delayed and accidents occur. So, in large cities, fast turn-around time is very beneficial. For rural locations, the cost to society is not as high, so lanes are usually still closed.
To demonstrate how fast installation times benefit high traffic locations, we are hosting a webinar on May 7th at 2:00 p.m. EST. If you are interested and want to join, register here or click below. After a short introduction on FRP structures, we will walk through two projects we have done in the past:
Construction of a fully assembled pedestrian bridge in 15 minutes
Installation of FRP platform panels around busy train schedules
This all means safer construction, lower installation cost, and lower cost to the public by getting the job done faster.