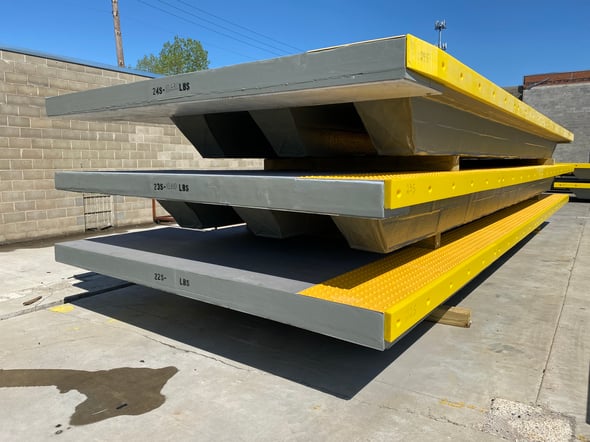 Fast installation has become the catchphrase that captures people's attention when we talk to customers about choosing a FiberSPAN rail platform. But I have to back up for a minute and tell you that it also takes time for new technology to become the preferred choice.
We started using fiber reinforced polymer (FRP) material for rail platforms in 2009 because owners wanted a corrosion resistant, low maintenance product with a long life cycle. It wasn't until we introduced the double tee in 2017 that FiberSPAN rail platforms really took off. Customers had begun to ask for double tee construction. It was a product that we were already familiar with. We first fabricated FRP double tees for a vehicle bridge in 2008. It turns out that while the double tee wasn't a great fit for the vehicle bridge market space, it was perfect for rail platforms.
In a nutshell, a double tee is a load-bearing structural member that looks like two T-beams placed side by side. Two vertical stems and a horizontal slab, called a flange, are integrally molded to create a structure that can support heavy loads. This configuration has been available in precast concrete for more than 50 years. Design flexibility and light weight are advantages that make FRP double tees stand out. Our composite double tees are 25 to 30 percent lighter than traditional precast concrete double tees. This translates to rapid installation for time-sensitive projects that can't afford lengthy down times.

Our ability to prefabricate large FRP tee panels means that construction companies can install them in a single night with minimal interruption for passenger and cargo trains. We manufacture the composite rail platforms to NFPA 130 and ASTM E-84 Class 1 standards for fire resistance. Nonslip surfaces for passenger safety are part of the package. Tactile warning tiles and rubbing boards are usually installed in the factory before being shipped to the worksite.
In next week's blog, we'll talk about how we used double tee FiberSPAN panels to help restore Staten Island, New York's historic Annadale Station. If you have a rail project you'd like to discuss, please give us call.