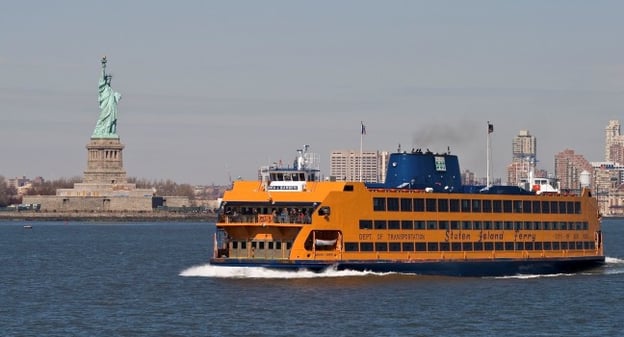 Tucked between the towns of Rocky Hill and Glastonbury, Connecticut lies a three-vehicle barge that provides rides across the Connecticut River. This service is known as the Rocky Hill-Glastonbury Ferry, which began operations in 1655. This makes it the oldest operating ferry service in the United States. We've been involved in quite a few waterfront infrastructure projects, and wanted to offer our perspective on the history of ferries in America.
Ferry services have thrived over the course of centuries, even despite the development of airplanes, automobiles and the extensive U.S. highway system. In 2009, ferries in the U.S. carried over 102 million passengers and 37 million vehicles. In states like California, Washington, Alaska and New York, ferries are considered a key mode of transportation. Each state's ferry system carries over 10 million passengers and/or 4 million vehicles per year.
Though ferries aren't exactly considered the go-to form of transportation for many Americans, they still serve a valuable purpose. Ferries provide a scenic shortcut across rivers, bays and ports in cities from New York City to San Francisco. They also give riders and passengers a few moments during their travels to relax and let the boat do all the work. If you haven't taken a ferry ride, look up the nearest system and consider it the next time you're in the neighborhood. You'll be glad you did.
Stay tuned for our next blog on the St. Johns River Ferry.