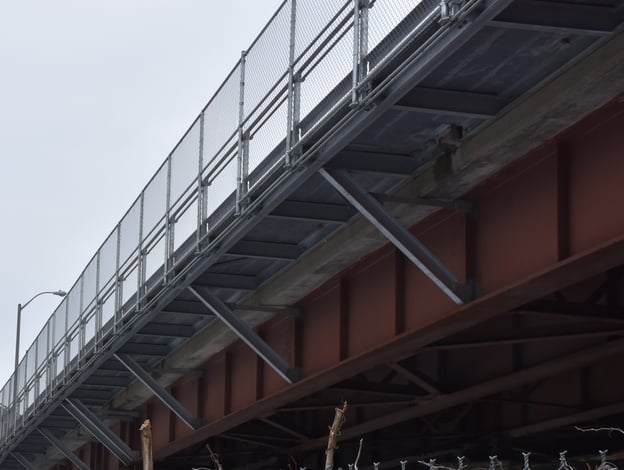 More people are pulling on their running shoes and hopping aboard carbon-light bicycles these days than ever before. Commuters also use pedestrian walkways to reach rail platforms and parking lots after a long day's work.
Traditionally, cyclists and cars crossing vehicle bridges have shared lanes with pedestrians lucky to get a narrow sidewalk curb. But traffic growth, aging pedestrian walkways and the inability of conventional materials like concrete to support increasing load requirements has made "sharing" impractical.
Case in point. Take the Water Street pedestrian bridge walkway in downtown Albany, the capital of New York. This walkway is the sole link between a bevy of state and federal offices housing some 700 employees and the Water Street parking lots where these individuals leave their cars.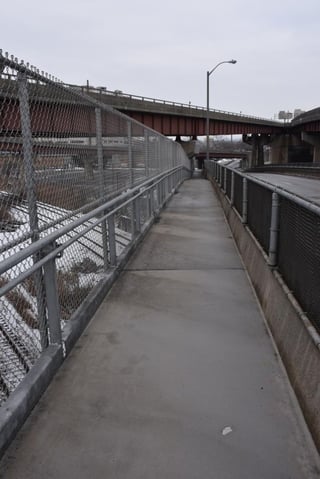 When the State of New York, Office of General Services (OGS) inspected the 17-year-old structure, it found substantial deterioration due to salt and ice. To avoid multiple shutdowns, OGS decided to replace all components of the 716 ft. structure and enlarge the sidewalk. Traditional concrete proved too heavy for the vehicle bridge structure. Lightweight concrete was also considered, but high-strength, lightweight, corrosion resistant Fiber Reinforced Polymer (FRP) composite decking proved to be the ideal alternative.
FiberSPAN-C allows a lightweight pedestrian bridge to be cantilevered from a vehicle bridge. The cost-effective FRP panels are 80 percent lighter than reinforced concrete panels. Because the cantilevered sidewalk is prefabricated, construction is quicker and installation costs lower. FRP composite material's corrosion resistance to chemicals and water means zero maintenance for a structure that will last nearly 100 years.
Sounds like a no brainer right? If you want to know more about this advanced sidewalk system, register for our free, live webinar called "Share the Road with FRP Cantilever Sidewalks." On Tuesday, February 13, 12 p.m. EST, we'll touch a little more on the challenges facing pedestrians and vehicles and share a number of examples of other sidewalk projects that incorporate our FiberSPAN-C cantilever sidewalk system.
And stay tuned for our next blog. We'll get into some statistics about pedestrian safety, the technology behind our sidewalk system and how its performance characteristics meet basic protocol requirements for modern sidewalk construction.