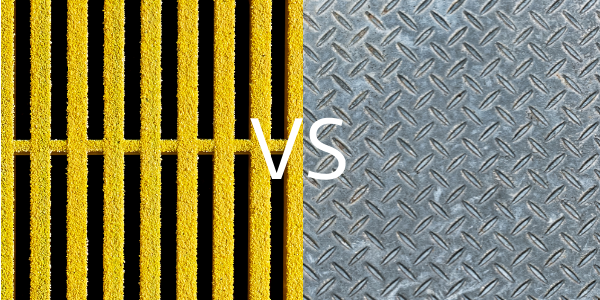 English writer Eustace Budgell wrote, "Imitation is a kind of artless flattery," in a 1714 edition of the newspaper The Spectator. The proverb didn't gain popularity until the 19th century when Charles Caleb Colton wrote, "Imitation is the sincerest of flattery," in his book Lacon: or, Many Things in a Few Words. The same could be said of the matchup between Fiber Reinforced Polymer (FRP) composites and steel.
In recent years, new grades and products have been described as lightweight, sustainable, corrosion-resistant, quick to install and able to provide longer service life.
It's a story that the composites industry has been telling about FRP for more than two decades. The advanced material's field performance and the repository of data now available to engineers, suppliers and OEMs have pushed FRP to center stage and seen its adoption over steel. Here's why.
FRP is inherently corrosion-resistant, warding off chemicals, salt and water. For infrastructure applications, design flexibility allows these products to be tailored for flame retardants, temperature resistance, UV protection and higher corrosion resistance. These additives are easier and simpler to add to FRP versus other materials.
When it comes to impact resistance, FRP will not permanently deform under a working load. Steel and other metals typically deform more easily [and permanently] under working load.
Stiffness-to-weight ratio and strength-to-weight ratio are important considerations when shopping for the right material. Here's a simple comparison of how FRP stacks up against steel and aluminum.

Glass FRP's strength-to-weight ratio is superior when compared to steel and aluminum but doesn't rank as high for stiffness-to-weight ratios. To meet stiffness requirements, CCG uses thicker glass fiber while retaining lighter part weight. For stiffness critical applications like airplanes and bicycles, carbon fiber is used though material costs are higher.
FRP has low thermal conductivity and zero electrical conduction. As a result, the composite material is able to retain reliability and performance properties in varying environmental conditions.
The ability to prefabricate FRP products has reduced overall costs and made installation quicker and easier. Steel fabricators have also introduced some prefabricated bridge products that require smaller crews to perform installation and abutment work. But CCG is able to take prefabrication a step further with its continuous manufacturing process. Pultrusion creates high-strength, lightweight FRP structural profiles such as angles, c-channels and I-beams. Fiberglass reinforcements in the form of roving and mats are saturated with resin and channeled into a heated die. The profile exits the die in the form of the desired cross-section or shape. Pultruded profiles have a higher tensile strength than conventional steel yet are approximately 80 percent lighter.
Pultruded profiles provide a lower carbon footprint than steel and aluminum, and because lower energy is needed for raw material and part manufacturing. To build a bridge, pultruded pieces are simply cut, drilled and bolted together. Bridges that use CCG pultruded profiles can be assembled by a group of volunteers with no skillsets as the assembly is as straightforward as that of an Erector Set.
For rail platform applications, lightweight FRP panels can be installed quickly around train schedules to limit downtime for commuters. CCG's FRP panels provide a prefabricated, corrosion-resistant superstructure that can withstand harsh outdoor conditions, chemical exposure and heavy traffic. The Double Tee panel is a lightweight, durable solution for structural projects such as bridge decks, rail platforms and bridge sidewalks.
If you are evaluating materials for your next project, contact us. FRP may not have been an option you've thought about, but we would like to talk with you about why we think it's the right choice.