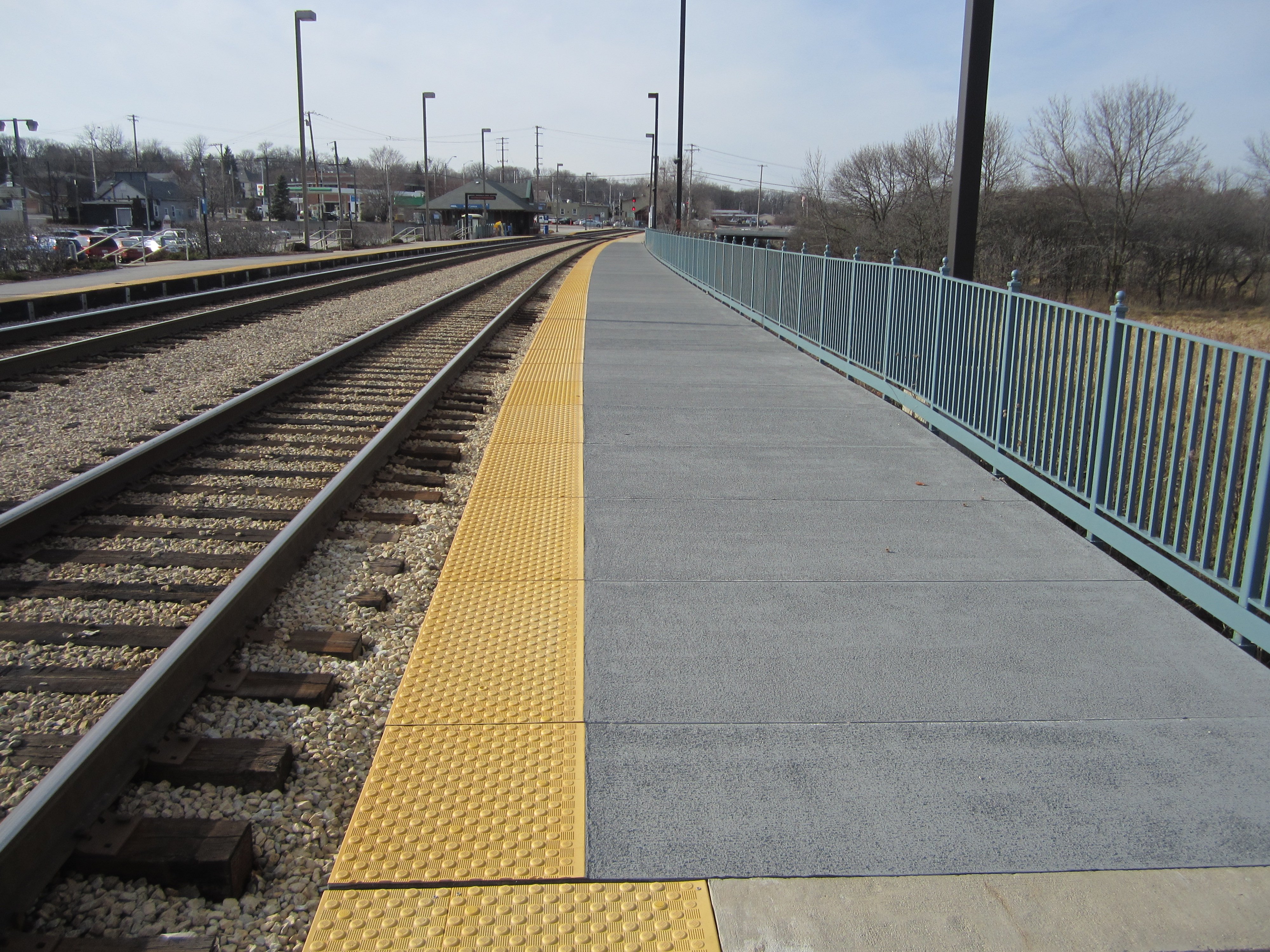 Rail platforms play several important functions in the transportation industry. They must safely withstand high volumes of foot traffic, as well as other loads. They also need to be spacious enough to comfortably accommodate the crowds of train commuters that use them daily.
In addition, rail platforms often serve as the first point of interaction between a customer and a commuter railway. This means that to a large extent a customer's first impression of a particular railway company will be formed by his or her reaction to the rail platform. Thus, rail platforms should also contain elements of visual appeal.
It is vital for station managers to take proactive steps to maintain or enhance the functionality of their rail platforms. For instance, many rail platforms are gradually worn down from corrosion, heavy foot traffic, and adverse weather conditions. To keep their platforms safe, managers must counteract the effects of these factors.
One option that has become increasingly popular is utilizing fiber-reinforced polymer (FRP) composite decking solutions for rail platforms. In contrast to traditional materials such as concrete, wood, and steel that are known to degrade in response to common threats, FRP composite decking is a highly durable alternative that can withstand extreme weather events, the accumulation of snow and ice, and damaging deicing chemicals.
FiberSPAN Rail Platforms
At Composite Advantage, our FiberSPAN-R Fiber Reinforced Polymer (FRP) composite rail platforms serve as corrosion-resistant structures that require very little maintenance, yet are as functional and economical as the more traditional alternatives. FRP infrastructure products give transportation agencies an excellent alternative to steel, wood, and concrete platforms.
Our FRP rail platforms' unique composition offers the following key benefits to railway companies:
FRP panels are lightweight (less than 20% the weight of precast concrete).
They are structurally durable, and can handle a uniform live load up to 150 pounds per square foot.
Since FRP panels are fabricated in-house, they allow for a high level of design customization.
It is easy to incorporate features such as non-slip overlays, warning tiles, curbs, railing attachments, and drainage slopes into FRP platform design.
Prefabricate panels enable rapid installation between train schedules.
FRP decking materials are highly resistant to the effects of corrosion, wear, and adverse weather.
All of our products are ADA-compliant.
One of the biggest advantages FRP platforms offer is in relation to exterior stations. In such applications, station managers and operators often have to use deicing chemicals to remove accumulated snow and ice during winter months. In some cases, the heavy use of such chemicals has reduced the effective life of concrete panels to a mere 15 years.
In contrast, FRP materials are so corrosion-resistant that they can withstand the repeated application of these deicing chemicals for more than 75 years, without ever compromising the safety of passengers or employees.
Panel Types
At Composite Advantage, we offer a variety of panel types that fit the specific needs of our customers. Some of these options include:
Slab Decking
These panels are used for spans up to 15'. Our panels attach to support beams or closely spaced piers and have a thickness range between 3.5" and 8".
Our FRP decking has a high threshold of dimensional flexibility, which allows our slabs to meet deflection criteria based on the spacing of the support structures. Our slabs weigh between 6 to 10 lbs. per square foot (which is 10% the weight of concrete decking). Since FRP panels are built in a sandwich configuration, clients can customize panel depth and laminate/web thickness according to their project's specific load requirements.
Tee Stiffened Panels
This product type is similar to precast concrete tee panels, but weigh less than 20% of their precast concrete counterparts (15-22 psf compared to 120-130 psf). These panels are suitable for spans in the range of 15' to 50'.
We integrally mold the beams into the main deck, so there is 100% structural interaction between each feature. Thus, we can provide each tee stiffened panel as a complete platform section.
At piers, we can customize the beams to transition to slab depth to fit platform elevations. Each panel is sized according to load and span requirements.
Custom Panels, Shapes, and Curvatures
We offer a high level of customization for our customers. We fabricate panels in a wide variety of sizes, shapes, and curvatures. We can also incorporate a number of design elements into our panels, such as:
Crowns or cross-slopes
Curbs
Drainage scuppers
Rail post connection points
Attachment points for equipment and signs
Warning tactiles
Rub rails
Learn more
If you'd like to learn more about the advantages FRP rail platforms can offer for your company, our in-house experts would be happy to provide you a design, price, and weight estimate for your next project. Reach out to us at Composite Advantage today for a free quote.