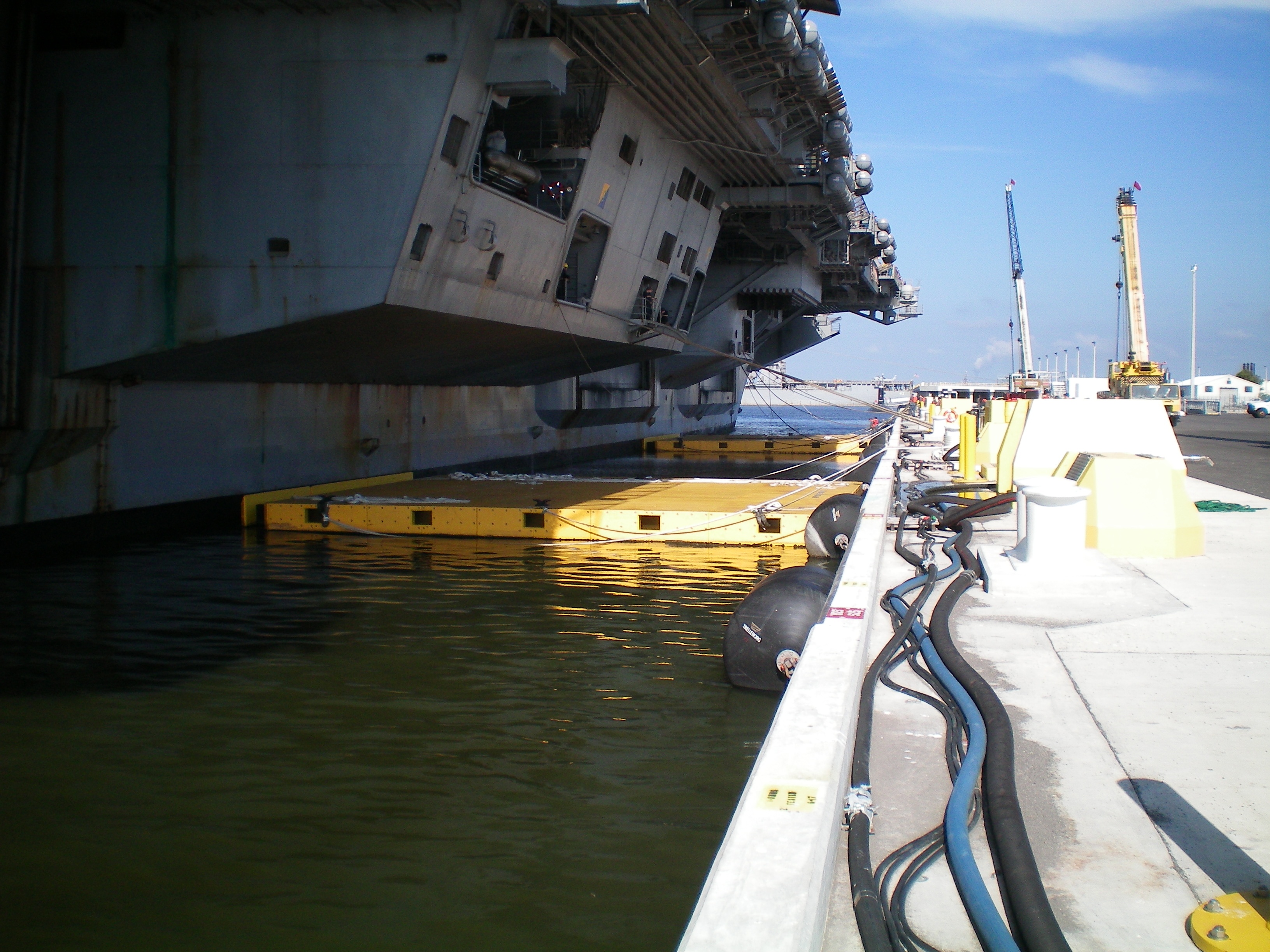 When the U.S. Navy launched its' search in 2009 for a "one-size-fits-all" high-strength camel product that would reduce maintenance, save costs and improve operational efficiency—it was a tall order to fill. For conventional materials that is. Fiber reinforced polymer composites fit the bill with the design flexibility and mechanical performance characteristics required to guard Navy vessels from mooring damage. Composite Advantage developed and installed the first set of universal FRP camels at the Naval Submarine Base New London in Groton, Connecticut in 2010. Two more sets followed in 2011. The camels were designed to meet Naval Facilities Engineering Command (NAVFAC) requirements for energy absorption, stability and long service life. The structures were 36 ft. long, 18 ft. high [with a stand-off depth of 17 ft.] and had a structural weight of 70,000 lb.
Over the last decade these FRP camels have demonstrated their ability to protect submarine hulls from damage below the waterline. The passing of time has also proved that FRP reduces maintenance despite constant exposure to a corrosive environment like saltwater.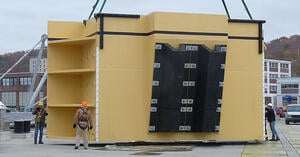 Composite camels have continued to be adopted by naval stations across the U.S. We have built and delivered numerous sets since that first project with the Navy. This year, two FRP submarine camels travelled 7,600 miles to Naval Base Guam.
The maintenance savings demonstrated by the submarine camels led to a new design that was developed to berth nuclear powered aircraft carriers designated by the Navy as CVN. Naval Station Mayport in Jacksonville, Florida received the first set in 2017. The FRP CVN camels were 56 ft. by 63 ft. with a depth of 6 ft. and a structural weight of 235,000 lbs. To make shipping easy, each camel is made up of five modules and fender panels. The pieces are transported by flatbed trailer to the nearest shipyard where they are bonded and bolted together. The fully assembled camel is then delivered to the pier via tugboat.
CVN camels have a lateral load capacity of 1,500,000 lbs and a vertical concentrated load capacity of 20,000 lbs. Naturally buoyant, the camels are fabricated with UHMW-PE interfaces that are resistant to abrasive friction.
With more than a decade of experience with this type of waterfront structure, we can design and manufacture FRP camels and ship separators to accommodate any size or class of vessel.
The ability to save wear and tear on docks while protecting vessel hulls adds another layer of cost savings. FRP camels are also sustainable since they don't release any environmentally damaging chemicals or substances into the water.