Structural fabrications refer to structures that are fabricated and assembled using standard fiberglass profiles. These profiles are basic shapes such as angles, channels, tubes, plates, I-beams, which can be turned into custom assemblies for a range of applications. These applications benefit from the corrosion resistance, durability, lightweight and design flexibility of fiber-reinforced composite materials.

The end-user products can be full systems, support structures, and safety components. Examples include:
Systems
Support Structures
Safety Components
Cooling Towers

Pedestrian Bridges

Suspended Walkways

Maintenance Platforms

Mezzanines

Equipment Platforms

Tank Supports

Tank Access Platforms

Handrails

Ladders

Ladder Cages

Stairs

Catwalks
Many applications are in manufacturing facilities where chemicals are present, or outdoor applications are subjected to wind, rain, snow, sand, and sun.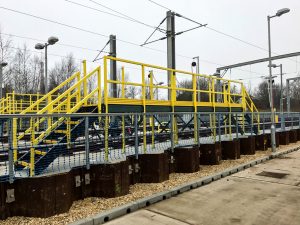 Another reason why using FRP Structural Fabrications is such a beneficial solution is that customized structures can be created from lower-cost profiles. The profiles are fabricated using pultrusion, which is the composite manufacturing process with the highest volume output and the lowest conversion cost.
Starting with these low-cost elements, the structures can be fabricated in a variety of shapes, sizes, and load-carrying capacities since infrastructure and manufacturing plants have varying sizes and needs.
The profiles can be cut to any length and assembled into structures of any dimension. The assemblies can be put together in the factory or assembled onsite from kits of pre-drilled profiles and stainless steel hardware.
Kenway Composites specializes in turning stock FRP shapes and grating from Creative Pultrusions into structures. Kenway provides engineering and design capabilities, design submittal drawings for the customer to approve, and full shop drawings for custom fabrications. Products are designed with easy field installation in mind to reduce time and cost for customers.
With the safety of users so important, we manufacture FRP handrail systems and stair rail systems in a wide range of designs. Handrail systems withstand a load of at least 200 pounds applied in any direction, which exceeds the requirement of OSHA 1910.23. Railing systems are available in vinyl ester and polyester, fire-retardant resin systems in a yellow, safety color, and we have the best UV resistance performance in the industry. We modify the design of our railing for architectural railing solutions. So, you can find our railing in a variety of public spaces, such as aquariums, marinas, hotels, and more!
FRP ladder and safety cage ladder systems are used where safe vertical climbing access is required. Fixed ladder systems are customized to meet site-specific requirements. Ladders withstand a concentrated load of at least 200 pounds at the mid-point of the rung, exceeding the requirement of OSHA 1910.27 for Fixed Ladders. And the finishing touch is safety cages to meet OSHA requirements.