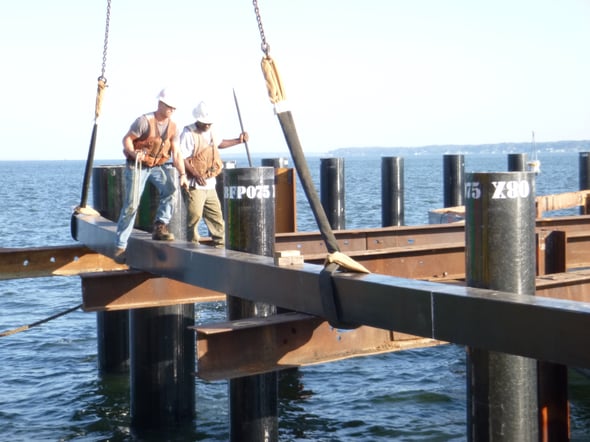 Energy absorbing fender systems are designed to protect bridge piers, industrial docks and electrical transmission towers from unintended vessel impacts. With the focus on "energy absorbing", fiber reinforced polymer (FRP) products have become the perfect technology for long lasting fender systems threatened by high impact. As an engineered material, fiberglass composites offer the perfect combination of properties for energy absorbing fender applications. The flexural strength of FRP is very similar to the yield strength of the steel, but FRP is only about 1/6th as stiff as steel.
For the past 25 years, the waterfront industry has been incorporating fiberglass pipe piles in fender systems. This started in smaller fender applications with lower impact requirements. With the demonstrated success of the structural performance along with the established corrosion resistance, owners and designers have incorporated FRP piles in larger fender systems with ever increasing impact requirements on the nation's critical transportation waterways.
Fenders act as systems, not individual structural elements. The next evolution is a higher stiffness, higher capacity wale product that maximizes the number of pipe piles that participate in reacting to the energy of an impact event. The Creative Composites Group has recently developed a high capacity wale product called the FiberWALE. This new product provides engineers and owners with the most cost effective solution for high energy capacity fendering applications.
This related blog provides more back story on the evolution of FRP fender systems, design details, and the higher capacity FRP wales.
The Creative Composites Group is offering a webinar on designing high energy absorbing fenders using FRP products on Thursday, July 16 at 2 pm ET. Click here for more information and register for the webinar.