The wrong choice of apparel can land a celebrity on any number of "worst dressed" lists. When a bridge earns a place on uglybridges.com (yes, that's a real site), the reason has more to do with its condition than outward trappings. The website highlights "ugly" bridges across the nation that suffer from years of neglect and deferred maintenance.
Such was the case with Niagara County, New York's Wilson-Burt Road Bridge. The 442-foot long structure carries highway and pedestrian traffic over Eighteen Mile Creek. Though built in 1939, the bridge isn't eligible for the National Register of Historic Places. In 1981, it was reconstructed with a concrete cast-in-place deck on steel girders. The update didn't last long. Growing pedestrian traffic and a crumbling sidewalk made the bridge a candidate for another overhaul in 2012. In addition to its degrading infrastructure, the sidewalk needed to be widened.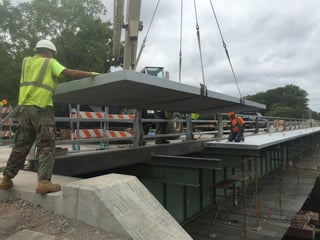 Designers charged with enlarging the sidewalk had a maximum weight limit to consider, making conventional choices like concrete undesirable. The need to reduce weight, yet retain strength to support a larger structure, prompted engineers to look at different materials. Enter Fiberglass Reinforced Polymer (FRP).
FiberSPAN cantilever sidewalks give crossings like the Wilson-Burt Road Bridge a high-strength, lightweight solution that is long-lasting and low maintenance. The sidewalk's width was increased to 5.5 feet of clear width, yet dead load measured lower than the structure's original weight. Engineers designed the FiberSPAN cantilever sidewalk to support a live load of 85 psf while minimizing deflections to less than ¼ inch (L/500).
Twenty prefabricated FRP sidewalk panels were transported to the bridge site for easy installation in October 2015. The Wilson-Burt Road Bridge opened for business just two months later. Sporting a soft gray color that compliments both the vehicle bridge deck and the structure's natural surroundings, Niagara County's ugly duckling bridge has emerged a swan.
For more information on FiberSPAN or its applications, get in touch.