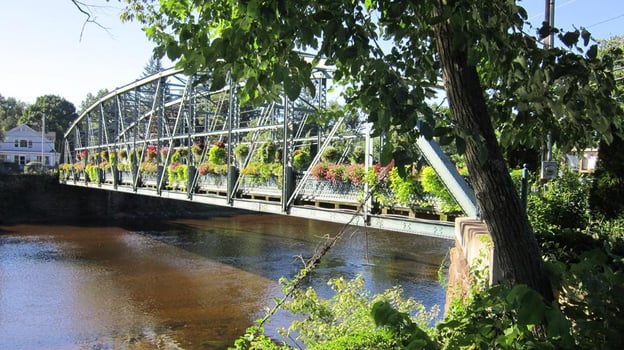 I don't know about everyone else, but the recent climbing temps and sunny skies are definitely making me look forward to spring. Warmer days will (hopefully) be here before we know it, and with them, vibrant flowers will be in full bloom. One New England community especially enjoys the beautiful blossoms thanks to a one-of-a-kind pedestrian bridge.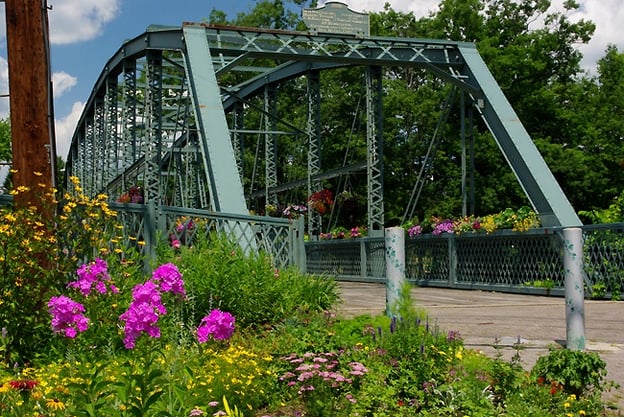 The Old Drake Hill Flower Bridge in Simsbury, Connecticut was originally built in 1892. The structure is a metal truss bridge spanning 183 feet across the Farmington River. The bridge was initially a plain, one-lane vehicle bridge and in 1992 was modernized and widened into two lanes. In 1995, the bridge went through a restoration and became a unique pedestrian bridge for cyclists, hikers and pedestrians alike. According to the Town of Simsbury, "The cost of restoration was approximately $575,000, 80% paid by a Federal Transportation Grant."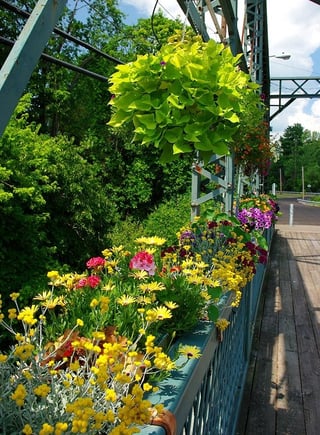 In 1996, local community members began to create gardens on and surrounding the bridge. Old Drake Hill Flower Bridge contains over 60 flower boxes and 30 hanging baskets. Simsbury High School students and a local Eagle Scout built and installed many of the flower boxes on the bridge. A group of devoted volunteers maintains the gardens of the historic bridge. This is a popular scenic location for special occasion photos such as weddings and proms. It's also a great place to just stop and smell the roses.
In 2014, the bridge was awarded Editor's Choice in Yankee Magazine's Best of New England edition. And if you're interested in bird watching, the Simsbury Patch reports "there is a Great Blue Heron Rookery near the bridge so it is not uncommon to see a heron in flight over the bridge heading to its nest. Eagles have been spotted grabbing trout from the waters of the Farmington River."