Last week, I traveled to Capitol Hill to participate in a very special event. Every year or so, the American Composite Manufacturers Association (ACMA) hosts an "infrastructure day." Association members who are involved in bridge rehabilitation and replacement projects are invited to participate. What these members like myself do on infrastructure day is visit with our elected representatives and their staff in Washington DC to stress the need for improved infrastructure. Fiber reinforced composites are an important part of that interaction because of the material's advantages – namely a long life cycle that can reduce costs for future generations.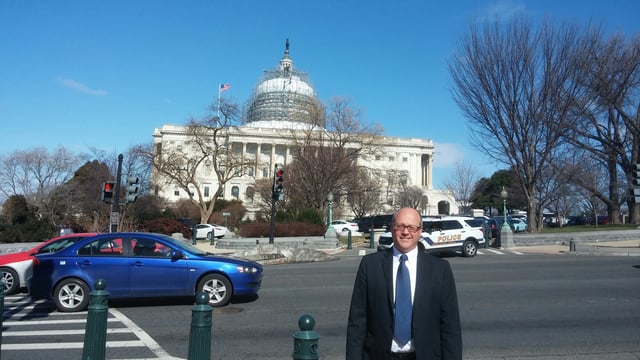 Scott Reeve on Capitol Hill.
Besides raising general awareness about the benefits of FRP bridges and bridge decks, our primary message focused on a provision in the recently passed FAST Act – a piece of legislation that after many years of inaction was finally passed by Congress and was signed into law by the President.
The act's provision requires the Federal Highway Administration to undertake a study of bridges built under the Innovative Bridge Research and Construction (IBRC) program. We visited the offices of representatives on the Transportation and Infrastructure Committee and the offices of our home districts to stress how important it is that this study be carried out.
From 1998 through 2004, Congress funded the construction of approximately 300 bridges using new technology. About 150 of these bridges featured FRP composite technologies. The study will require an individual performance examination of each bridge and its constituent components. Each bridge and component will then be compared with the standard performance of conventional materials commonly used in such projects.
The IBRC bridges, including those without any composites, represent technologies invaluable to the development of next generation structures. It's critical that the long-term results of these technological investments be made available to current bridge owners and designers. They're the ones who are making decisions about the many structures across the nation that will need to be rehabilitated or replaced with 21st century technology. They need to consider technologies that can withstand the rigors of long-term use, severe weather and a growing population that's constantly on the move.