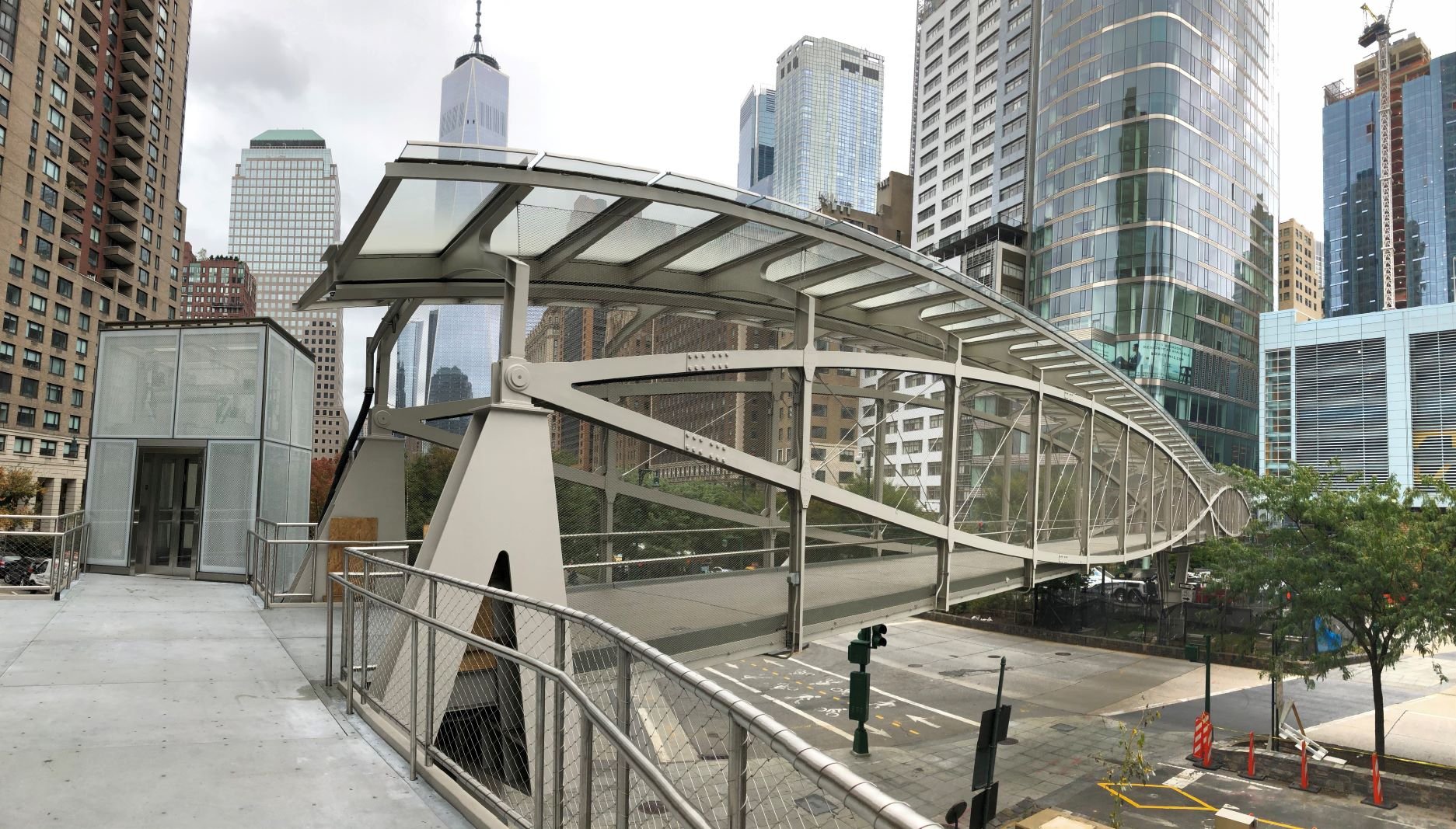 After travelling from Ohio to Red Hook, Brooklyn, Composite Advantage's fiber reinforced polymer (FRP) decking was installed on the West Thames Street pedestrian bridge and readied for a barge trip to Battery Park City where the fully assembled structure was installed in just one night while Manhattan slept. More and more crowded urban communities like the New York borough are sourcing FRP to span traffic bottlenecks and connect people to the places they need to go.
We introduced the project in last week's blog. The cost-efficient solution was sourced to replace the temporary bridge that was installed after the attacks on September 11, 2001. The FRP pedestrian bridge is the first of its type in New York City. FRP's light weight allowed it to be prefabricated, preassembled and adapted for quick installation to minimize traffic disruptions. The architect of record designed the bridge to maximize daylight and views to provide a safe but attractive crossing in the daytime and during the evening. A glass roof, lighting and an elevator and stairwell at each end add to the overall appeal. The West Thames Street crossing spans six-lane West Street and Hudson River Greenway giving pedestrians a direct connection to Battery Park City from the Financial District.
The FRP bridge deck is supported by a two-span steel lenticular truss bridge designed to meet performance requirements that included 90 psf live load and a deflection rating of L/360. Deck area totalled 3,482 sq. ft., with individual deck panel dimensions of 12.9 ft. by 12.9 ft., a deck depth of 4 in., and a deck weight of 8.4 psf. Comprised of 16 panels, FRP bridge deck features included curbs, access to utilities underneath, and a long lasting, non-slip overlay of quartz aggregate polymer. The West Thames crossing opened to the public in late 2019.
Zero maintenance and longevity give Manhattan an FRP bridge product that will last a century. And there are other value adds. Aside from permanently restoring a much needed link between key sections of the borough, New York City's Economic Development Corporation also sees the bridge as a link that will "help support Lower Manhattan's economic vitality and enhance the community fabric."
FRP's ability to provide high-performance structures with all the advantages of composite material yet contribute to the beautification of communities while meshing with their unique cultures is a good indicator of why cities like New York are taking notice.