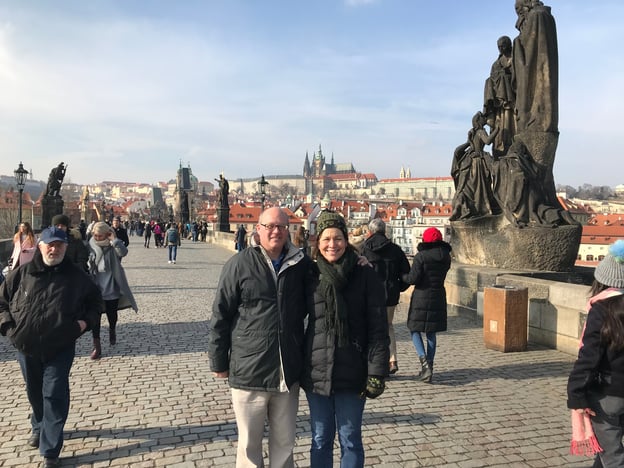 Bridges are special to people and places for so many reasons beyond just connecting two points. Bridges represent history, challenges and successes and often serve as a city's signature landmark, enjoyed by all. Since bridges are so integral to my work here at Composite Advantage, I make it a point to see as many as possible during any travel I might undertake. Which brings me to Prague, Czech Republic (AKA Czechia), where I recently had the opportunity cross the iconic Charles Bridge several times.
The Charles Bridge is a historic bridge spanning the Vltava River in central Prague. As you can see in the photos, the bridge incorporates a traditional arch structure, timeless materials, and important local history, religion and culture. Construction of the current bridge began in 1357 under King Charles IV as he made Prague his capital of the Holy Roman Empire. For 500 years, this bridge was the only connection between the castle side of the city and the Old Town.
The bridge is over 2000 ft (620 m) long and 33 ft (10 m) wide, built with stones and Bohemian sandstone. While locally plentiful, the sandstone is relatively soft and porous. As dirt and pollution accumulate on the surface, cleaning with any pressure or force would deteriorate the sandstone. Therefore, much of the structure appears dirty. To strengthen the bridge and deal with its appearance, a series of repairs are scheduled to begin in 2019 - and to last 20 years.
To me, one of the most memorable parts of the bridge is its collection of 30 statues lining its side. The statues depict saints and patron saints venerated during the 17th century.
With the bridge now solely dedicated to pedestrian use, it's the center of the mass of tourist enjoying the city. This makes this bridge more than just a connection within this vibrant capital city.