Fiber Reinforced Polymer (FRP) tanks and process vessels have been the standard material choice for years for any industry using strong chemicals for producing their products. Some industrial chemicals deteriorate traditional metal tanks causing costly repairs or replacement. FRP tanks excel in these environments with longevity and ease of repair.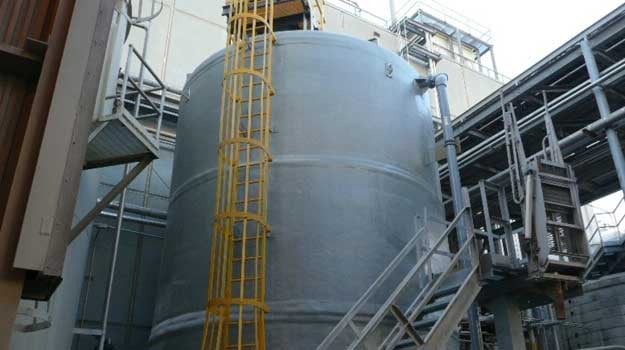 FRP Tanks have Inherent Material Benefits
Corrosion resistance to most chemicals (acids, alkalis, salts, oils, strong oxidizers, and solvents)
High strength
Lightweight at only 25% of steel density
Excellent thermal insulation (low conductivity)
Non-conductive (will not transmit electrical currents)
Applications in the Industrial Processing World
Chemical Storage Tanks
Process Tank
Seal Tanks
Scrubbers and Absorbers
Bleached Stock Towers
All quality FRP tanks are designed and built to stringent industry standards. Kenway engineers design per the relevant ASTM and ASME RTP-1 tank standards.
While FRP tanks are standard for the industry, that does not mean Kenway tanks are ordinary. The majority of tanks are a cylindrical shape, but from there, the design is customized to customer requirements.
Some Configurations
Horizontal or Vertical
Flat, Conical, or Sloped Bottom
Dual Wall Vessels
ASME Dished, Elliptical, or Flat Heads
Open Top
Cylindrical, Square, or Rectangular Shape Tanks
Kenway Composites can filament wind tanks as large as 12'Ø while our hand lay-up tanks can exceed 24'Ø. Every corrosion barrier is done with the hand lay-up method to ensure a void-free laminate with the proper resin ratio that meets or exceeds any standard or specification. We design each FRP tank to ensure long service life and excellent performance while respecting every customer's specifications and budget.
When customers expect full-service delivery, Kenway is skilled at coordinating and executing the field installation for any of the products that we engineer and fabricate. The same highly competent shop laminators are the technicians that travel to the job site and perform the work that ensures a successful installation and extended equipment life.