"It's a slippery slope" [a course of action that could lead to trouble]. "He is a slippery fellow." "The ice is slippery." As an adjective, the etymology of the word "slippery" is interesting because it has so many different meanings. Did you know that there is even a tree—the Slippery Elm—named so for its mucilaginous inner bark? There is one place though, that no one wants to hear the word "slippery," and that is in conjunction with pedestrian bridges.
Being in the business of fabricating and supplying fiber reinforced polymer (FRP) composite bridges, bridge decks, cantilever sidewalks and rail platforms to name a few, we get a lot of questions. But one of the questions we're asked most often is whether or not we can provide a non-slip wearing surface to our FRP products.
The answer is yes! We understand that safety is one of the biggest concerns when it comes to surfaces that handle a lot of traffic. Another is cosmetic. The bridge deck's most visible feature is well…what you see. Users want the bridge deck's surface to look great, last a long time and require minimal maintenance. Owners want a product that won't break the bank.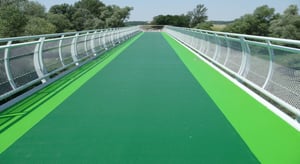 We apply a non-slip wear overlay to the top surface of our pedestrian decks during the production process. The pedestrian version uses a quartz aggregate in a polyurethane methyl methacrylate polymer (PUMA). This commercial system has been used in Europe for 15-plus years and in North America for the past four years in parking garage, concrete and swimming pool deck applications. The quartz aggregate comes from commercial suppliers and is available in a variety of colors. Click here to see color options. Quartz is rated a seven on the Mohs Hardness Scale and diamond is rated at 10. It is also UV resistant and won't fade. Architects and owners are starting to use more colors on pedestrian bridges and cantilever sidewalks to blend with the surroundings, make a bold statement or minimize the visual effect of dirt on the surface. The standard overlay thickness is 1/8 in.
Our vehicle bridges use an aluminum oxide coating which is unaffected by steel plow blades due to its hardness rating of 9. The typical vehicle overlay is 3/8 to ½ in. For pedestrian decking that will be subjected to steel blades, we use a smaller grit aluminum oxide to provide the right friction in a pedestrian-friendly finish. In this case, thickness drops back to 1/8 in. and the aluminum oxide color options of black and white can be blended in different ratios to give a darker or lighter shade.
Trail bridges with low traffic still use an epoxy grit overlay that was commonly applied to FRP pedestrian bridges for two decades. This commercial product has also been used in everything from factory floors to commercial ship decks and flight decks for aircraft carriers. These coatings are widely available, easy to use and carry a relatively low price tag. Technicians can just roll out the material and adjust the texture accordingly. The epoxy grit system is susceptible to UV degradation and significant fading. This doesn't affect the performance of the structure of course, but it's something designers would rather not deal with.
To help eliminate some of these issues with conventional approaches, we use traditional epoxy grit with an overcoating that is two-part polyurethane in the owner's choice of color. It won't fade even after years of exposure to UV rays. It also resists wear and repels stains.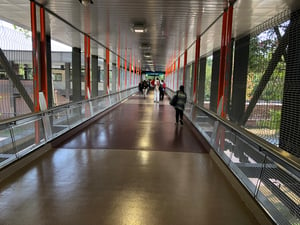 As FRP decking evolved from applications in parks with weekend users to constant daily traffic in urban areas, we found that epoxy grit did not hold up to the wear and tear. We conducted an extensive evaluation of six different commercial systems and chose Matacryl with the option to use quartz or aluminum oxide depending on project requirements.
We also have some pretty good data regarding longevity. The oldest FRP pedestrian deck with a non-slip coating is a bike path in Ohio which was installed in 1998. It is exposed to snow and ice and has not required any repair. Quartz aggregate wear surfaces last 25-50 years depending on the amount and type of traffic they are exposed to. Recoating is generally a cosmetic issue; even if the wear surface is scratched or gouged, it can be filled with a repair patch by any maintenance person. Now that FRP has been accepted as the go-to material for rail/transit platforms, the polymer aggregate overlay is really proving itself on a daily basis under the feet of thousands of commuters.
Sidebar comment: Over the last two years we've noticed that we get very few questions about the structural capability of FRP decks and bridges. We think it's because there continues to be a growing understanding and acceptance in the industry about the use of this material in bridges. From that aspect, we are pleased to be able to turn our attention to developing the next generation of wear surface solutions.
If you'd like to read more about our pedestrian bridge decks download our latest Ebook here >>>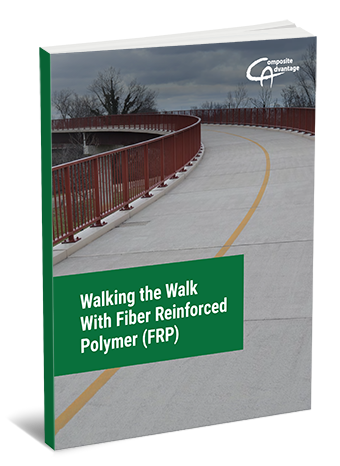 Editor's Note: This post was originally published in March 2015 and has been completely revamped and updated.