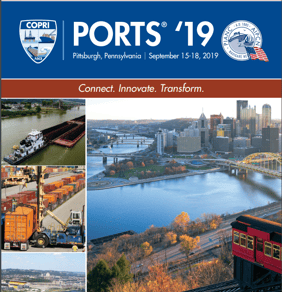 Composite Advantage attended the PORTS 2019 Conference last week in Pittsburg Pennsylvania. Like previous events, this was a great conference full of technical content and quality attendees. As a company that designs and sells an alternative technology it is great to exhibit at these kinds of events and spread the message about what fiber reinforced polymer (FRP) products can do to improve our aging infrastructure.
One of the most striking aspects of the show that I observed was the increasing knowledge and acceptance of FRP in waterfront applications. Just three years ago at PORTS 2016 few people that came to the booth knew much about the value of FRP and the advantages it could bring to their designs. This led to surface level discussions about what FRP was and the basic advantages of the material itself (corrosion resistance, light weight). This year, discussions were much more focused on specific design issues related to FRP. These included topics like independent design specifications, safety factors and the best ways to incorporate these advantages into an overall design.
I was also impressed with the high attendance of various owners. Specifically, representatives from the U.S. Navy, port authorities and ferry operators. Typically these agencies face travel restrictions budgets, but in this instance it was great to see so many of these people in Pittsburg.
In my opinion, the point of the PORTS show is to educate engineers on the latest technology advances so they can make informed decisions about how to improve waterfront infrastructure in the future. Overall I would say that this year's show was a success in achieving that goal. I am looking forward to PORTS 2022 in Hawaii.