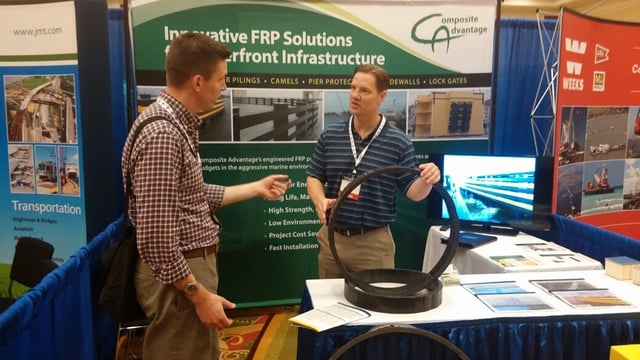 New Orleans in June. Toasty, to say the least. However, the PORTS 2016 conference that concluded yesterday was worth the trip for many reasons. The three and a half days of valuable educational sessions and networking are just a sampling of what makes PORTS one of the best conference/trade shows we attend.
There's more. For waterfront product suppliers/manufacturers like us, all the right customers are there: The US Navy and Coast Guard, port operators and design engineers. Also, since the show's only held every three years, the right people make the extra effort to show up.
PORTS16 also showed the growing value of FRP composites along the waterfront. How? The large number of FRP product exhibitors. Out of 77 exhibitors, at least nine companies, including my two best competitors, showcased FRP products. Larger numbers of FRP companies at each show proves to new (and existing) users of FRP composites that we are beyond just being a flashy new technology. FRP is now a standard option, and often the preferred choice. And though these nine or so FRP companies at PORTS may compete on a few products, the collective group is developing new applications for FRP in collaboration with owners and designers. I like it when a potential customer asks if we can create a new product to meet a need.
Another accomplishment for FRP technology: Last month at the PIANC (World Association for Waterborne Transport Infrastructure) conference in Belgium, a presentation on FRP monopiles for ferry terminals was selected as an award winning topic. This is the first time in 14 years that a US author gained this honor. Matt McCarty of WRA gave this presentation at PORTS to a standing room only crowd.
On the entertaining and educational side, ocean explorer Dr. Robert Ballard delivered the keynote address, recounting his experiences finding the Titanic, Bismarck and Lusitania. He shared some surprising information, for example - the search for the Titanic was actually cover for his search for two sunken nuclear submarines. His presentation and photos on the deep ocean floor environment and aquatic life were eye-opening (even if many of the fish have no eyes.)
As for now, I'm on my way back to Dayton to get working on our next waterfront project.