Since the first fiberglass boat was launched in 1954, fiber reinforced polymer (FRP) composites have proven ideal for marine infrastructure applications. Corrosion resistance to both sea water and chemicals has made FRP extremely valuable to waterfront infrastructure applications. Materials that are impervious to both chemicals and marine life are the perfect alternative to the less durable, traditional construction materials of wood, concrete and steel. This is the first of a series of blogs that will examine FRP composites in waterfront infrastructure.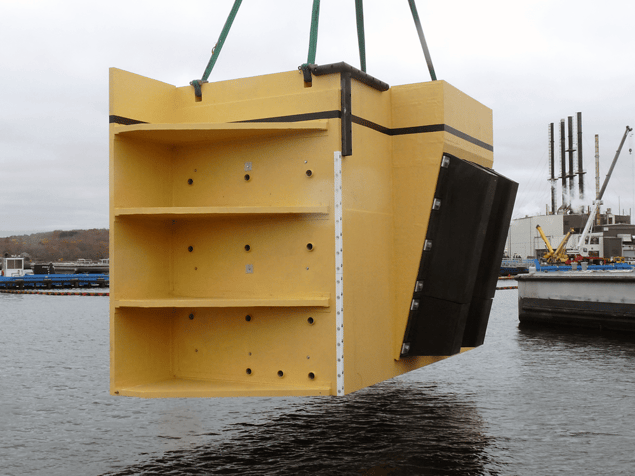 These waterfront applications range from fiberglass sea walls that prevent erosion, to highly-loaded structural products, such as a submarine camel, that protect billion-dollar submarines. Plastic seawalls were one of the first applications of FRP composites in waterfront infrastructure. The structural capacity of these seawalls can withstand soil and water pressure, prevent erosion and last over 50 years. Next came plastic lumber and fiberglass reinforced pile sections for pier construction and pile-supported fender systems.
The applications began to expand in the late 1990's when government entities began to recognize the life cycle cost benefits of FRP. Subsequently, they began to fund various demonstration projects. After 10+ years of maintenance-free service, these projects made believers of customers like the US Navy, US Army Corps of Engineers, and Departments of Transportation, along with their design consultants.
Fender protection systems using FRP pilings and wale beams offer a powerful combination of corrosion resistance and energy absorption. FRP composites have strengths equivalent to steel, but much lower stiffness. While this may be a detriment in some applications, it's the perfect combination for pier protection. When a vessel makes contact with an FRP protection system, the fender system bends but does not break. The lower stiffness results in larger deflections, which means more energy absorption and dissipation.
Camels (pictured above) have been one of the most challenging structural applications and a great success story. For 20 years, FRP camels have proven their value in protecting both submarines, ships and piers. One great example are the US Navy's composite submarine camels, which are designed to withstand berthing loads of hundreds of thousands of pounds, while safely separating the submarine and the pier.
The cost premium of the high performance FRP material continues to decrease relative to traditional materials. In fact, customers are seeing a return on investment in just a few years.