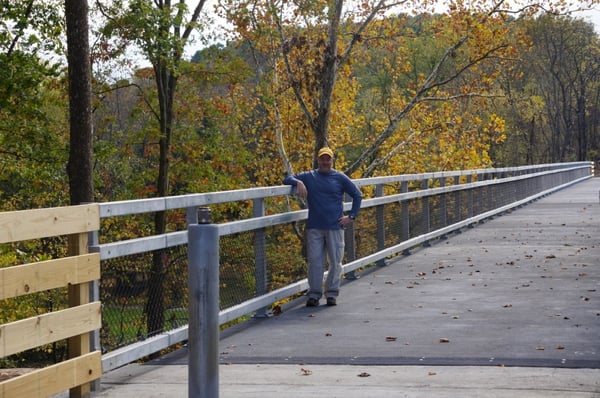 People across the nation participated in the Rails-To-Trails Conservancy's sixth annual Opening Day for Trails on April 7, 2018. Since 1986 RTC has helped to develop thousands of miles of rail-trails built to give pedestrians and cyclists access to prairies and mountain passes, passage over canyons and safe pathways along river banks. This organic network also connects towns and suburbs in a manner that makes one think of what it must have been like when railroads began linking communities to each other.
Currently 2,075 rail-trails totaling 23,390 miles have been opened with 796 rail-trail projects underway for an additional 8,382 miles. Want to know what the statistics are for your own region? Just use this map and select your state.
The longest rail-trails in America are more than 100 miles long. Nearly 90 percent of these trails have been built on a former railroad corridor. They are:
Katy Trail State Park — Missouri: 240 miles
John Wayne Pioneer Trail — Washington: 229 miles
Cowboy Trail — Nebraska: 219 miles
Other bridges in the "more than 100 miles long" category include:
Great Allegheny Passage — Maryland & Pennsylvania: 150 miles
Soo Line Trail - Northern Route — Minnesota: 148 miles
Columbia Plateau Trail State Park — Washington: 130 miles
Paul Bunyan State Trail — Minnesota: 119 miles
Flint Hills Nature Trail — Kansas: 117 miles
Soo Line Trail - Southern Route & Saunders State Trail — Minnesota & Wisconsin: 114 miles
OC&E Woods Line State Trail — Oregon: 110 miles
George S. Mickelson Trail — South Dakota: 109 miles
State Line Trail — Michigan: 107 miles
Wild Rivers State Trail — Wisconsin: 104 miles
Other than aesthetics and new vistas, there are some solid arguments for the ongoing growth of bike trails. Pilot studies provided a solid foundation for the work by showing that if the right infrastructure was provided, people would "chose biking and walking over driving for daily trips." Building more highways and roads hasn't relieved congestion. According to the American Society of Civil Engineer's 2017 Infrastructure Report Card, "more than two out of every five miles of America's urban interstates are congested and traffic delays cost the country $160 billion in wasted time and fuel in 2014."
A 2012 study by University of Cincinnati School of Planning stated that trails "boost the desirability and value of the homes and neighborhoods they connect to." The study reported that prospective homebuyers in Ohio were willing to pay an additional $9,000 to be located 1,000 feet closer to a trail.
Trails and pathways increase activity in downtown business areas, by making it easier for shoppers and browsers to get to stores without the hassle of parking and traffic. For example, according to RTC's fact sheet on Investing in Trails business occupancy rate in downtown Dunedin, Florida increased by more than half, nearby Fred Marquis Pinellas Trail was opened to the public.
Kristina Swallow, the president of ASCE recently talked about the state of the nation's infrastructure. She said, "America's infrastructure was built primarily in the early 1900s [50s, 60s] around the car. Today we are a different society. We live and move differently and we need an infrastructure that can support this. We're much more urban. With urbanization we need to have choices."
These are just a few of the reasons the concept of rails-to-trails continues to spread cross country. The topic also begs the question of what products might support the work both economically and from a performance perspective.
Short-lived bridge products that require constant care and regular replacement have prompted agencies like parks and recreation agencies to look for long-lasting alternatives. Composite Advantage's new line of standard size Fiber Reinforced Polymer (FRP) trail bridges offer a zero maintenance option that lasts up to 100 years. Based on the supplier's FiberSPAN-T trail bridge first installed in 2008, the standard FRP system combines a prefabricated FRP composite deck with weathered steel beams and powder-coated aluminum railings to resist salt, water and chemical corrosion.
Composite Advantage's FRP trail bridges are available in sizes 20 ft. to 50 ft. and meet AASHTO guide specifications for pedestrian bridge designs. A non-slip surface supports safe foot traffic and lasts five to six times longer than traditional sand-in-paint finishes. The sustainable product complements natural surroundings with colors that include brown, green and grey. Bridges arrive on-site fully assembled so installation takes just one day. Just like rails-to-trails, the adoption of FRP products to link modern-day adventurers to prairies, mountain passes, across canyons and around river banks is a no-brainer.