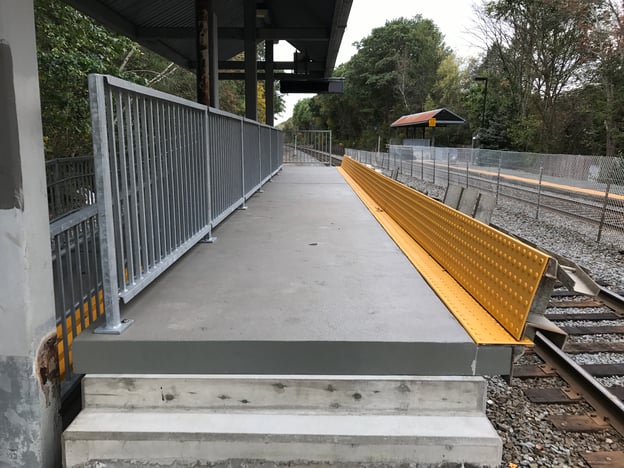 FRP platforms and ramps were recently installed at the West Natick rail station in the Massachusetts Bay Transit Authority (MBTA) system. The FRP panels replaced severely deteriorated concrete panels on the mini-high platforms that provide accessibility into the trains. Exposure to ice, water and deicing chemicals reduced life cycles for some concrete platforms to only 15 years. MBTA turned to FRP for a platform that could provide nearly a century of use with minimal maintenance.
Composite Advantage fabricated the new FRP panels to match the precast concrete panels that formed the ramps and platform. The panels are supported on concrete piers that were rebuilt to remove the corroding caps. The panels had attachment points for handrails that fit the same locations as the previous railings. Panels bordering the tracks were engineered to accommodate a retractable edge that's used to handle trains with different widths.
The north and south platforms are mirror images and each platform contains six FRP panels. To span the support distances between concrete piers, some of the panels were molded with stiffeners integral with the deck to provide a lightweight, "precast" Double Tee panel.
To avoid busy commuter schedules, the FRP panels for the north platform were installed and completed on Saturday with construction of the south platform completed on Sunday. Installation is easier and quicker with the light weight of FRP. The panel weight is approximately 20 psf, so the largest 25 ft by 6 ft panel was only 3000 lb. Each platform took approximately 8 hours to install. The new FRP platforms opened for business in November 2017.
We're proud to be supporting the improvement of these heavily used transit systems and will be getting out more information in the next few weeks.